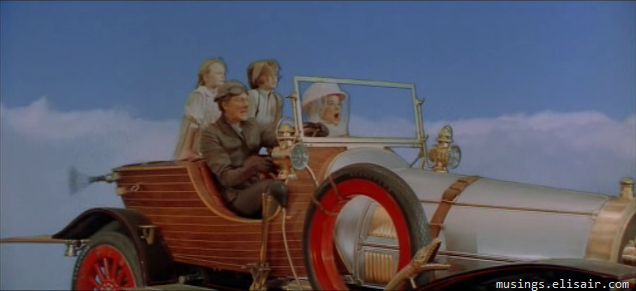 Book Vs. Movie: Chitty Chitty Bang Bang
The 1964 Ian Fleming Story vs the 1968 Dick Van Dyke Movie
The Margos can't seem to escape the allure of Ian Fleming with an episode devoted to his only children's story Chitty Chitty Bang Bang which was published in October 1964–two months after his death at the age of 56. He wrote the story for his son Caspar and based many of the characters on his children and their friends with the backstory of "aero-engined racing carts" of the 1920s by Louis Zborowski in London.
The story of Commander Caractacus Pott and his adventures with his car "Chitty Chitty Bang Bang"–so named for the sound she made when in motion." The car goes on many adventures around England and France, including the ability to "swim" and "fly" and evade bad guys that kidnap the kids to use them in robberies.
Albert "Cubby" Broccoli produced the film which took many liberties with the basic story and added second-tier music from the Sherman Brothers (Disney masters who worked for MGM on this project.) It was nominated for an Academy Award for best song for the title track and was later adapted into a stage musical in 2002.
So, which did we like more between the original story and the 1968 adaptation?
In this ep the Margos discuss:
Clips used:
Chitty Chitty Bang Bang takes off
Chitty Chitty Bang Bang trailer
ChuChiFace
Music Box Dance
The Child Collecter
Music by The Sherman Brothers
Book Vs. Movie is part of the Frolic Podcast Network. Find more podcasts you will love Frolic.Media/podcasts
.
Join our Patreon page to help support the show! https://www.patreon.com/bookversusmovie
Book Vs. Movie podcast https://www.facebook.com/bookversusmovie/
Twitter @bookversusmovie www.bookversusmovie.com
Email us at [email protected]
Margo D. @BrooklynFitChik www.brooklynfitchick.com [email protected]
Margo P. @ShesNachoMama https://coloniabook.weebly.com/
Our logo was designed by Madeleine Gainey/Studio 39 Marketing Follow on Instagram @Studio39Marketing & @musicalmadeleine