Book Vs. Movie: Dragon: The Bruce Lee Story
The Shannon Lee Book/Memoir Vs. the 1993 Biopic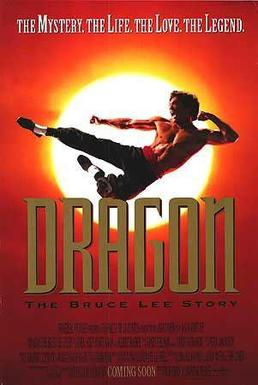 Bruce Lee is one of the biggest martial artists of all time and created the style Jeet Kune Do, which caused controversy within the martial arts community. As a Chinese-American, he wanted to spread the word to anyone eager to learn and not keep secrets. He also believed in pushing himself to the limit in everything he did, which caused friction in Hollywood and Hong Kong film communities. 
Born Lee Jun-fan November 27, 1940, in San Francisco and raised in Hong Kong by parents who tried to keep their smart, energetic son who would get into street fights in the 1950s. After being sent back to America to get his act together, Lee became more interested in school (mainly history and philosophy) and brought his new martial arts ideas to eager Bay Area students to Seattle.
After demonstrating his new brand of Kung Fu in a 1964 championship in Long Beach, California, Hollywood came calling for Lee. His early years as a child movie actor in Hong Kong came in handy with his series The Green Hornet, playing sidekick Kato. Though it only lasted one season, it helped gain a worldwide fan base.
Heading back to his childhood home, Lee produced, wrote, and acted in several films that are now considered Kung Fu classics, including The Big Boss & Fists of Fury. When he passed mysteriously on July 20, 1973, he was still producing what would become his biggest film, Enter the Dragon.
His death at the age of 32 by Cerebral Edema has been explored dozens of times over the last fifty years, with the latest theory being he had too much water in his system, and his kidneys could not function properly.
The irony is that we are pairing the 1993 movie Dragon: The Bruce Lee Story (starring Jason Scott Lee and Lauren Holly) with Shannon Lee's 2020 book Be Water My Friend: The Teachings of Bruce Lee. One of his key philosophies was to "be like water" in dealing with all aspects of life.
Linda Lee wrote her account of Lee's life in 1989's The Bruce Lee Story, co-written with her ex-husband. (We have thoughts about his later Lee books and claims!) Shannon helped produce the excellent documentary "30 For 30: Be Water" and How Bruce Lee Changed the World.
So between the book and movie–which did the Margos like better?
In this ep, the Margos discuss:
The life of Bruce Lee
Why 50 years after his death, and why is he still a superstar all this time later?
Quentin Tarantino's use of Lee in Once Upon a Time in Hollywood
The cast of the 1993 film: Jason Scott Lee (Bruce Lee,) Lauren Holly (Linda Lee,) Robert Wagner (Bill Krieger,) Luoyong Wang (Yip Man,) Michael Learned (Viven Emery,) Nancy Kawn (Gussie Yang,) Lim Kay-tong (Phillip Tan,) Ric Yong (Bruce's father,) Sterling Macer (Jerome Sprout,) Van Williams (The Geen Hornet,) and Rob Cohen as the director.
Clips used:
"Conquer your fears"
Bruce fights sailors in Hong Kong
Bruce fights students in Seattle
Linda's mother is not happy about this romance
Bruce defeats his demon
Book Vs. Movie is part of the Frolic Podcast Network. Find more podcasts you will love Frolic.Media/podcasts
.
Join our Patreon page "Book Vs. Movie podcast"
You can find us on Facebook at Book Vs. Movie Podcast Group
Follow us on Twitter @bookversusmovie
Instagram: Book Versus Movie https://www.instagram.com/bookversusmovie/
Margo D. Twitter @BrooklynMargo
Margo D's Blog www.brooklynfitchick.com
Margo D's Instagram "Brooklyn Fit Chick"
Margo D's TikTok https://www.tiktok.com/@margodonohue
You can buy your copy of Filmed in Brooklyn here!
Margo P. Twitter @ShesNachoMama
Margo P's Instagram https://www.instagram.com/shesnachomama/
Margo P's Blog https://coloniabook.weebly.com/
Our logo was designed by Madeleine Gainey/Studio 39 Marketing Follow on Instagram @Studio39Marketing & @musicalmadeleine