Book Vs. Movie: Laura
The 1943 Novel Vs. the 1944 Classic Film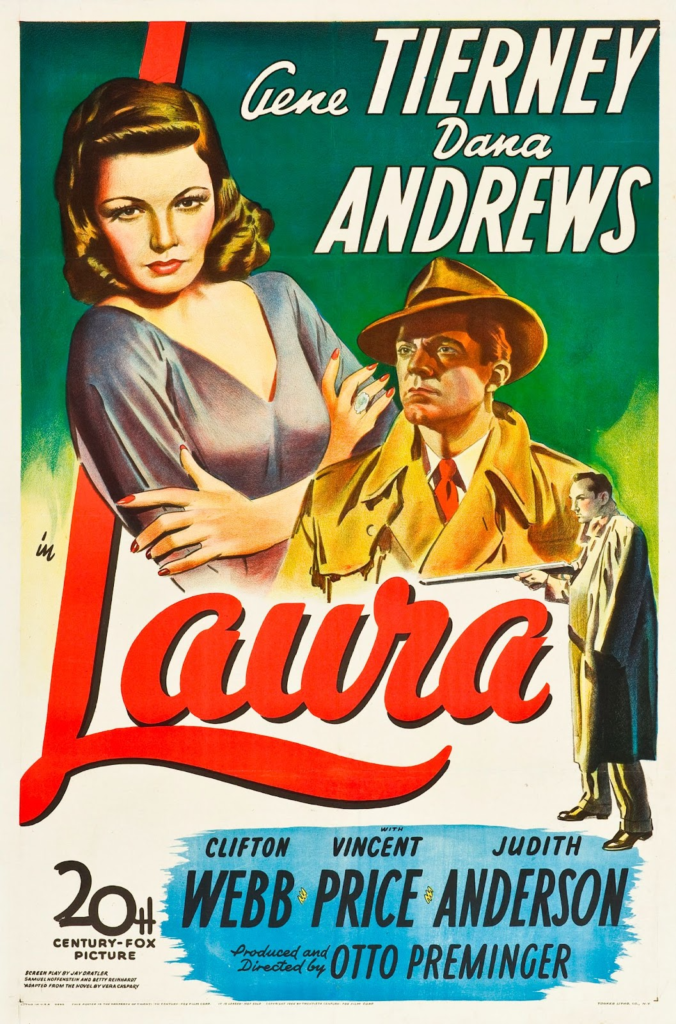 The Margos continue with the 1940s with the film noir genre–Laura starring the gorgeous Gene Tierney and Dana Andrews, Clifton Webb, and Vincent Price. Based on the 1943 novel Ring Twice for Laura by Vera Caspary, the story of the mysterious Laura Hunt, who is found murdered (or was she?), was initially serialized in Collier's magazine in October and November 1942. It became a hit novel and was released as an Armed Services Edition to the troops in World War 2. 
Narrated in the first person, "Laura" is going murdered at her apartment door with her face left unrecognizable. Detective Mark McPherson tries to find her killer and focuses on her former lover, Waldo Lydecker, and her finance Shelby Carpenter. In the middle of the investigation, Laura shows up, surprised that someone was killed in her place. So who is the real victim and killer?
The movie, directed by Otto Preminger, brings Gene Tierney as Laura, and from there, the character of Lydecker changes from an obese restauranter to a lanky writer who works in his tub. Dana Andrews plays the detective who falls in love with Laura (and who can blame him?!)
The film's production had intense disagreements between the movie studio, the actors, the directors hired, and even columnist Walter Winchell had a say in the plot. But it is now considered a movie classic.
So between the book and movie–which did the Margos like better?
In this ep the Margos discuss:
The life of writer Vera Casparay
The intriguing plot and why it is considered a mystery/romance picture
The troubled production
The cast of the 1944 film: Gene Tierney (Laura Hunt,) Dana Andrews (Mark McPherson,) Vincent Price (Shelby Carpenter,) and Judith Anderson playing Ann Treadwell.
Clips used:
Mark McPherson calls Laura a "dame"
Mark McPherson meets Waldo Lydecker
Laura meets Shelby
"The interrogation scene"
Book Vs. Movie is part of the Frolic Podcast Network. Find more podcasts you will love Frolic.Media/podcasts
.
Join our Patreon page to help support the show! https://www.patreon.com/bookversusmovie
Book Vs. Movie podcast https://www.facebook.com/bookversusmovie/
Twitter @bookversusmovie www.bookversusmovie.com
Email us at [email protected]
Margo D. @BrooklynMargo www.brooklynfitchick.com [email protected]
Margo P. @ShesNachoMama https://coloniabook.weebly.com/
Our logo was designed by Madeleine Gainey/Studio 39 Marketing Follow on Instagram @Studio39Marketing & @musicalmadeleine