Book Vs. Movie: The Thin Man
The Dashiell Hammett Novel Vs. the 1934 Classic Film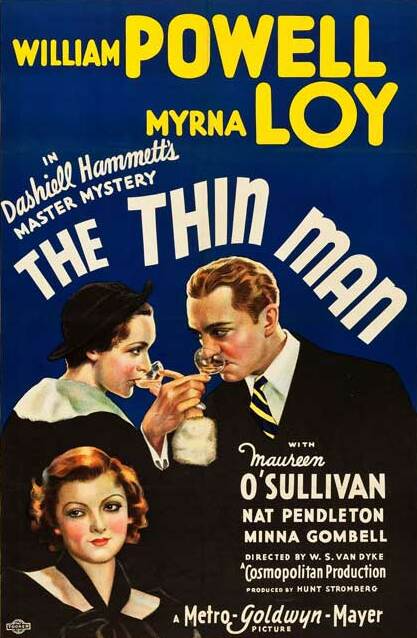 The Margos are looking for actors with chemistry and witty banter, so we had to dive into the fabulous world of Nick and Nora Charles and The Thin Man. What began as a feature in Redbook magazine in December 1933 turned into a best-selling novel by one of the most important writers of the 20th Century–Dashiell Hammett. 
We discussed Hammett when talking about The Maltese Falcon, and for several reasons, The Thin Man became his last novel. Hammett was a passionate anti-fascist who joined the Communist Party in 1937. By the 1950s, Congress investigated him before the House of Un-American Activities (HUAC), where he refused to "name names." He went to a federal penitentiary in West Virginia and found himself impoverished afterward. His partner Lillian Hellman would go on to run his estate posthumously.
The Thin Man is a story about a former New York City police officer (Nick Charles) who marries a wealthy socialite (Nora Charles) and spends his time between the city and San Francisco living as a bon vivant. One day, back in NYC, he runs into Dorothy Wynert, the daughter of a former client looking for her father.
Later, we learn that his secretary (and former lover), Julia Wolf, was found murdered by his former wife, Mimi. The police think she was murdered by her gangster friend Shep Morelli. Mimi's new husband is much younger, tall, handsome, and slim (the THIN man!) There are all kinds of banter, double-crossing hijinks, and more plot holes than you can shake a stick at.
The movie, directed by W. S. Van Dyke in 1934, stars William Powell & Myrna Loy as Nick and Nora Charles and their dog, Asta. Screenwriters Albert Hackett & Francis Goodrich simplified the plot in the first six films about the couple. Powell and Loy shine with their glamorous look, which delighted audiences during the Great Depression, and would go on to be nominated for four Academy Awards (It Happened One Night swept that year.)
So between the book and movie–which did the Margos like better?
In this ep the Margos discuss:
The backstory of Dashiell Hammett
Movies during the Great Depression
The legacy of the movie
The cast of the 1934 film: William Powell (Nick Charles,) Myrna Loy (Nora Charles,) Maureen O'Sullivan (Dorothy Wynant,) Nat Pendleton (Lt. John Guild,) Minna Gombell (Mimi Wynant Jorgenson,) Porter Hall (Herbert MacCauley,) William Henry (Gilbert Wynant,) Cesar Romero (Chris Jorgenson,) Natalie Moorhead (Julia Wolf,) Harold Huber (Arthur Nunheim,) Edward Ellis (the "thin man," and Skippy as Asta the dog
Clips used:
The audience meets Nora Charles
Nick meets Dorothy for the first time in years
Nick shoots his Christmas present
Nick fights an intruder (knocks out Nora!)
Music: William Axt
Book Vs. Movie is part of the Frolic Podcast Network. Find more podcasts you will love Frolic.Media/podcasts
.
Join our Patreon page to help support the show! https://www.patreon.com/bookversusmovie
Book Vs. Movie podcast https://www.facebook.com/bookversusmovie/
Twitter @bookversusmovie www.bookversusmovie.com
Email us at [email protected]
Margo D. @BrooklynMargo www.brooklynfitchick.com [email protected]
Margo P. @ShesNachoMama https://coloniabook.weebly.com/
Our logo was designed by Madeleine Gainey/Studio 39 Marketing Follow on Instagram @Studio39Marketing & @musicalmadeleine