What Did We Learn This Month?
 Health
March 2015
Health Cover Star for March:
Alison Sweeney is on the cover and she talks about body image, life without Days of Our Lives, The Biggest Loser and the insecurity she feels from the contestants, her favorite workouts and how she is trying be a strong example for her daughter.
So what else is inside the March Health?
"Yoga at Your Desk"
Health magazine's Kristin McGee shows off a few yoga moves you can do at your desk to try and keep your alignment in check. It's tough with all of the sitting most us do but the "Cow Face Arms" will be one of my new daily moves.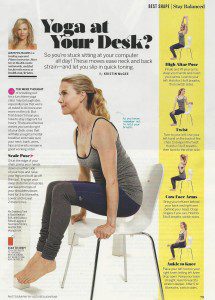 "30 Days to a Toned Stomach"
Tracy Anderson (who teaches at a SoHo studio that is so exclusive they will NOT sell single-class passes) has created these four alternatives to the basic plank move to get your core toned.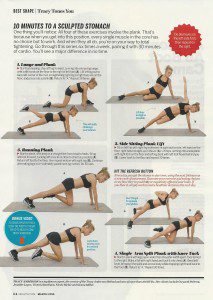 "Walk This Way"
I loved the cues here on how to get proper workout with your power walk. I tend to hold my arms too close and should swing them a bit more using my core to stabilize.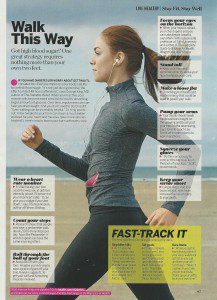 "Just Right Jackets"
Is it Spring yet? Because I am so damn tired of wearing my parka every single day and looking at these bright jackets is giving me an intense sense of longing.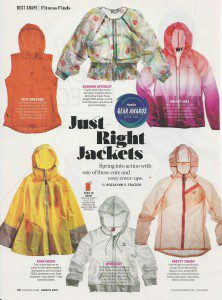 And now the rest of the best of this issue of Health:
"Your Fat: A User's Manual" Perhaps one of THE most misunderstood parts of the human body is fat. Hallie Levine dissects what there is to love and loathe it.
"7 Surprising Secrets to Eating Out Healthy" Good tips here on how to eat out and stay on a healthy path.
"That Pill Can Do What?" New uses for over-the-counter meds that will help what ails you from headaches to muscle soreness to dandruff.
Follow Heath online at: www.Health.com
Overall Grade:
B A good issue but the cover interview sounded really familiar.
(If you are reading this on a different site or a different feed than Brooklyn Fit Chick, it has been taken without permission.)
Until next time…
Ox Ox,
BFC
Brooklyn Fit Chick
Follow me on Twitter: "BrooklynFitChik" (note the spelling!)
Instagram: BrooklynFitChick
Pinterest: BrooklynFitChick
You Tube: BrooklynFitChick1