What Did We Learn This Month?
 Women's Health
July/August 2015
Women's Health Cover Star for July/August 2015: 
Julianne Hough (Dancing With the Stars) is on the cover and inside the magazine she talks about her summer tour with her brother Derek, her favorite movie dancing scenes (I agree with her about Romy and Michelle's High School Reunion!,) and eating healthy with her hockey player  beau Brooks Laich.
(I'm getting over the whole "point to the body part we are mentioning on the cover", however)
We also get a look at her favorite 20-minute workout developed by trainer Astrid Swan which you can check out yourself here: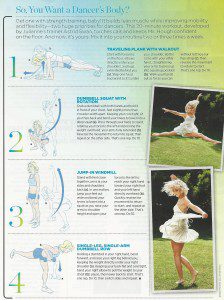 So what else is in this issue of Women's Health? 
Nice Recovery!
I have had a stressful year and have not been diligent with taking care of my body after workouts so I like having the reminder here on the power of good recovery tools.

"Women's Health Next Fitness Star"
Women's Health is once again looking for the best unknown fitness talents and turning them into a superstar and you can vote online right here: http://www.womenshealthmag.com/tags/next-fitness-star
The contestants are:
Nikki Metzger (Scottsdale, AZ)
Rachel Nicks (New York, NY)
Jana Hare (Lexington, KY)
Christine Bullock (Los Angeles, CA)
Dina Juve (Fresno, CA)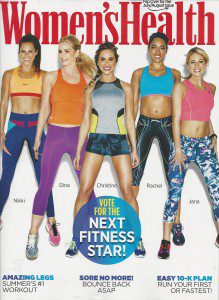 And now the rest of the best of this issue of Women's Health:
"Sun's Out, Buns Out" We get all kinds of "booty" related news here form three glute moves to the kind of heels you should wear in the summer that will shows off your stems without throwing you off balance. (The Stuart Weitzman sandals featured here are $425, BTW!)
"The New OCD" Women's Health talks about a new term for me "Obsessive Career Disorder" which means you eat and sleep your career and neglect other aspects of your life. The editors talk about taking time to actually sit and eat your lunch away from your desk to get a fresh perspective of the day. (I need to make that more of a habit rather than making it seem like a treat…)
"Scar Tactics" I am one of the clumsiest people on the planet of earth, proven fact. (Have you ever broken your toe while changing socks? No? Then I win!) I liked this feature from Caitlin M. Kiernan on the best practices for getting rid of scars both old and new because lord knows I will need the information sooner than later.
Overall Grade:
A-  I really liked the articles in this issue but wish there were more workouts. Maybe next month?
You can check out Women's Health online as well: www.WomensHealthMag.com
(If you are reading this on a different site or a different feed than Brooklyn Fit Chick, it has been taken without permission.)
Until next time…
Ox Ox,
BFC
Brooklyn Fit Chick
Follow me on Twitter: "BrooklynFitChik" (note the spelling!)
Instagram: BrooklynFitChick
Pinterest: BrooklynFitChick
You Tube: BrooklynFitChick1