What Did We Learn This Month?
 Health
September 2014
Health Cover Star for September:
Erin Andrews
The Fox Sports & Dancing With the Stars celeb has an enviable figure that she works pretty damn hard for thankyouverymuch and the healthy-lifestyle enthusiast  allows Health readers to try her own favorite Physique 57 workout (here!) that you can do in 30 minutes time for overall strengthening.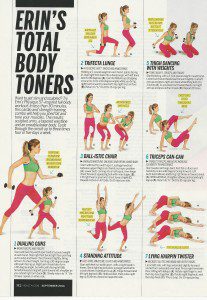 So what else is inside the September Health?
"Perk Up Your Posture"
Yoga goddess Kristin McGee shows off a few poses that will give you stronger shoulder & back muscles while helping to fix your posture.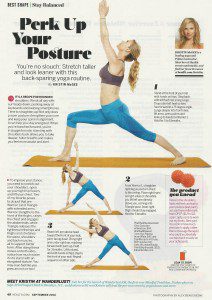 "Tracy Tones You"
This month the trainer that is Gwyneth "Goopy" Paltrow-approved offers a circuit workout she says you should do six times per week but I will give you permission to do it twice instead. (You're welcome!)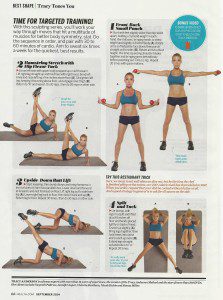 "19 Tips for Runners"
Are you looking to get faster while you add the miles on the pavement? Follow these tips including exercise suggestions from Jordan Metzl, MD.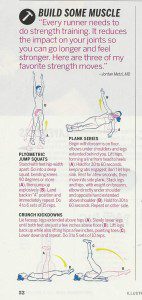 And now the rest of the best of this issue of Health:
"66 Brilliant Beauty Buys" The editors of Health pick their 2014 Health Beauty Award winners that will help you look even more gorgeous than you already are (how is that even possible?)
"Stream Your Way Slim" If you are looking for a streaming workout, Health gives the lowdown on the best online fitness classes.
"Surprising Migraine Cures that Work" I know plenty of folks who will find this information helpful.
"Is Butter Really Back?" If I miss anything about being dairy-free it's the butter. (Damn—I miss butter!)
"Health Rules You Can Really Break" New ways to look at how many hours a week you should work out, the number of hours you really need to sleep and more, here.
Follow Heath online at: www.Health.com
Overall Grade:
A! Last month I was underwhelmed with Health but the September issue gave me the "happies" Yay!
Until next time…
Ox Ox,
BFC
Brooklyn Fit Chick
Follow me on Twitter: "BrooklynFitChik" (note the spelling!)
Instagram: BrooklynFitChick
Pinterest: BrooklynFitChick
You Tube: BrooklynFitChick1