What Did We Learn This Month?
 Health
July/August 2014
Health CoverStar for July/August
Maria Menounos
All I know about Maria Menounos comes from listening to her interviews with Howard Stern where the entertainment reporter says "nooooo-uh!" and "yes-uh!" constantly. Plus, she also has a fun/goofy laugh.  After reading this interview I now know that Maria has a reality show on Oxygen called Chasing Maria Manounos and just published her own diet book The EveryGirl's Guide to Diet & Fitness.
In college Maria had at one point ate "competitively" to keep up with her guy friends and wound up gaining 40 pounds by her junior year. Then she noticed a sign for a Miss Massachusetts pageant with a $1000 entrance fee thinking spending that much money would give her to motivation to lose weight and fix her bad eating habits. She has kept the weight off 16 years later!
You can get a look-see at some of Maria's favorite exercises here: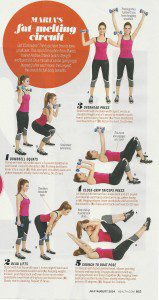 So what else is inside the July/August Health?
"Good Morning Yoga"
One of my first events I attended as a Fit Bottomed Girl featured yoga star Kristin McGee and I was gaga for her right away. So sweet and down to earth! Here is her favorite morning yoga warm-up.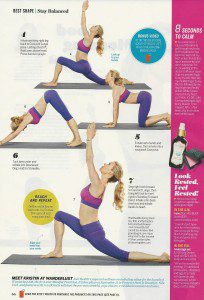 "Tracy Tones You"
I love how Tracy Anderson mixes it up on the mat and create unique movements to work smaller muscles. Though some of these had me scratching my head but will try them out and see how they work.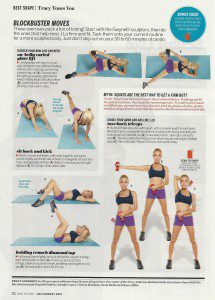 "A User's Manual: Your Muslces"
Whether your muscles are sore, strained or cramping—Health shows how to take care of them in this feature.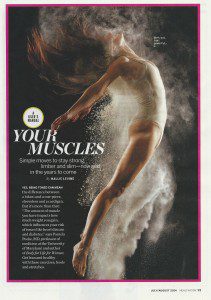 "The Right Running Show for Every Foot"
Looking for more speed or stability? Check out these running shoes to help every type of foot problem.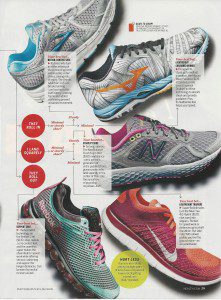 And now the rest of the best of this issue of Health:
"What's In her Beauty Bag" I love finding out what other women use for beauty products and here we get the beauty bag lowdown from Erin Andrews, Simone De La Rue and Wende Zomnir.
"The New Slimdown Truths" Think you can't eat after a certain hour or all calories are equal? Guess again!  Health tackles the latest research on weight loss methods.
"Do You Need That Mammo?" Find out what age and how often you should schedule a mammogram here. (Over 40 years old—every one-two years!)
Follow Heath online at: www.Health.com
Overall Grade:
B I like this issue very much but wish there a couple of tougher workouts included. Maybe in September?
Until next time…
Ox Ox,
BFC
Brooklyn Fit Chick
Follow me on Twitter: "BrooklynFitChik" (note the spelling!)
Instagram: BrooklynFitChick
Pinterest: BrooklynFitChick
You Tube: BrooklynFitChick1