What Did We Learn This Month?
 Oxygen
May 2014
What Do We Learn This Month in Oxygen?
"A Petite Powerhouse"
Our cover star is Kathleen Tesori who is not only sponsored by Bodybuilding.com but is also Manger of Supply Chain management with the U. S. Airforce—wow! The 5' 2" Tesori resides in Salt Lake City and considers working for her country to be a privilege.
Even though she has busy days with the Department of Defense she always makes the point to work out even if for only 20 minutes. The former junk food junkie used to live on corndogs and Mountain Dew (ah—college!) She now eats a very clean diet and totes around her meals in a cooler to and from work.
Kathleen is featured in the "20-Minute Fat-Burning Workout" inside the issue as well.
"Your Ultimate Upper Body"
By doing two opposing exercises at the same time you can see powerful effects (such as combining lunges with bicep curls.) Check out some of these moves from trainer Cindy Whitmarsh that will help increase your metabolic burn.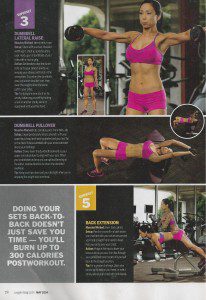 "Portable Pilates"
Oxygen has expert Pilates trainer Juliet Kaska of JK Zen Fitness show how we can all do this workout from home. (Note to self—get this equipment, stat!)
With a headline like that—guess what muscles you will be working with this feature? These exercises were developed by Simone De La Rue whom I completely adore. (Hi Simone!)
I am not much of a runner (if you ever see me running—ask what the hell is wrong!) Nor am I much of a "pink" girl but this page of pink running gear gives me the happies. (Maybe because Spring has sprung!)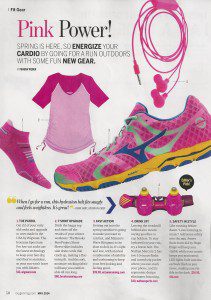 And now the rest of this issue of Oxygen:
"Strong Body, Strong Mind" Exercising your body can also help your mind from "warding off dementia to relieving anxiety and depression."
"Eat Smarter to Feel Great" If you have problems with inflammation (over here!) changing your diet can help "minimize it's effects."
Overall Grade:
A- Lots of good workouts here but some of the other features were less than interesting to me.
You can follow Oxygen magazine at www.Oxygenmag.com
Until next time…
Ox Ox,
BFC
Brooklyn Fit Chick
Follow me on Twitter: "BrooklynFitChik" (note the spelling!)
Instagram: BrooklynFitChick
Pinterest: BrooklynFitChick
You Tube: BrooklynFitChick1