What Did We Learn This Month?
 Fitness
January 2015
Who Is on the Cover of Fitness this Month?
Former Disney Teen Queen Demi Lovato who is about the most accomplished 22-year old I have ever read about in my entire life. Demi is on the road right now with a hyper successful singing career, is the brand ambassador for Sketchers, and has her own skin care line called "Devonne" by Demi. Oh AND she has her own line of hair extensions called Secret Color. (Whew!)
A few years ago things were not looking too good for Demi. Hospitalized for bipolar disorder and bulimia the young star was struggling with mental illness and her self-image. Thankfully she is on something of a health kick with exercise and clean eating being a priority for maintaining her positive mindset.
In her interview with Fitness Demi talks about her favorite workout tunes, how she motivates herself to get a sweat session going wn hen her motivation is low plus her advice for other young women struggling with personal issues.
What Do We Learn This Month in Fitness?
"Hot Arms & Abs"
This quickie workout from Barry's Bootcamp trainer Noah Neiman will help you strengthen and tone your bod in record time.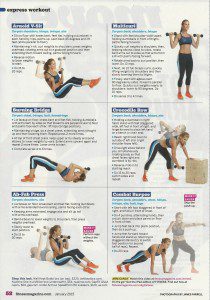 "Hot Stuff: The Goods We're Obsessing Over Now "
Fitness editors chose a whole page of the cutest fitness gear I can imagine. They all give me the "I wants!"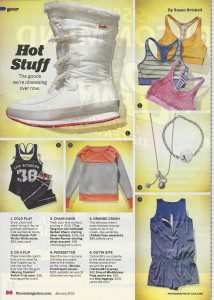 "Fitness Better Body Plan"
I love this workout from BFX Studio which uses their EMOM (Every Minute on the Minute) intervals. You can get a video to download onto your iPad by going to www.fitnessmagazine.com/digitalnow.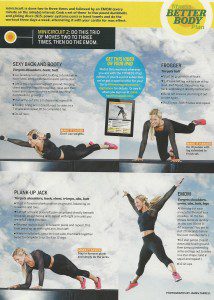 And now the rest of this issue of Fitness:
"Stroke Your Metabolism" The Rowing machine is the new "hip" cardio workout to hit the gym and this sample workout will help you burn up to 500 calories an hour.
"On the Road to Diabetes?" Diabetes has affected far more friends and family members than I can count so I really want to get the word out there on what people need to look out for to stay healthy. This article highlights that diabetes can hit healthy & fit people as well so be on the lookout for the symptoms and just ditch the cheap sugar habit, people!
Overall Grade:
A- A few really good workouts and smart health stories always make me happy and the January issue did just that!.
You can follow Fitness magazine at www.fitnessmagazine.com
(If you are reading this on a different site or a different feed than Brooklyn Fit Chick, it has been taken without permission.)
Until next time…
Ox Ox,
BFC
Brooklyn Fit Chick
Follow me on Twitter: "BrooklynFitChik" (note the spelling!)
Instagram: BrooklynFitChick
Pinterest: BrooklynFitChick
You Tube: BrooklynFitChick1