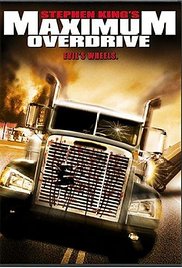 Book Vs. Movie Bonus Ep: Stephen King's "Maximum Overdrive"
In this episode Margo D. talks with Dana Buckler of the podcast "How Is This Movie" (http://hitmpodcast.podomatic.com/) to discuss the Stephen King cult classic "Maximum Overdrive"–the only film directed by Stephen King.
Here we discuss:
The apparent drug/alcohol problems of Stephen King
How the DP was wounded by an errant lawn mower
The various acting choices
The Green Goblin truck
What would Stephen King would create after this should MO had been a success
Who Made Who?
Book Vs. Movie podcast https://www.facebook.com/bookversusmovie/
Twitter @bookversusmovie www.bookversusmovie.com
Email us at [email protected]
Pinterest: https://www.pinterest.com/brooklynfitchik/book-vs-movie-podcast/
Leave us a voice mail: 206-279-0117
Donate to our show at Patreon.com/bookversusmovie
Every $25 donation?we will cover your book/movie of your choosing!
Margo D. @BrooklynFitChik www.brooklynfitchick.com [email protected]
Margo P. @ShesNachoMama www.shesnachomamasblog.com
Check out this episode!