Book Vs Movie Podcast
"Mary Poppins"
P.L. Travers vs Walt Disney (with a touch of "Saving Mr. Banks" and "The Boys: The Sherman Brothers")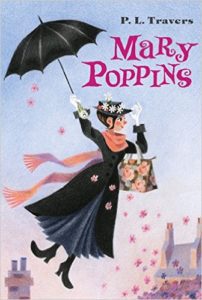 Our newest episode is "perfectly perfect in every way" (well, we come pretty damn close!) Here we discuss the classic 1934 children's novel versus the 1964 Walt Disney multiple Oscar winning film. Topics we cover:
The interesting (and complicated) life of P.L. Travers/Helen Lyndon Goff/"Ginty"
The Sherman brothers who wrote all of the music and lyrics
Walt Disney's vision of the film versus the author's intentions for the character.
The plethora of differences between the novel and film.
Differences between the relationship of Mary and Bert between the book and movie.
Clips used in this episode:
"supercalifragilisticexpialidociousl" Julie Andrews & Dick Van Dyke
"Feed the Birds" Julie Andrews
P.L. Travers and Disney staff discuss the script (the last clip from "Saving Mr. Banks")
Book Vs. Movie podcast https://www.facebook.com/bookversusmovie/
Twitter @bookversusmovie www.bookversusmovie.com
Email us at [email protected]
Pinterest: https://www.pinterest.com/brooklynfitchik/book-vs-movie-podcast/
Donate to our show at Patreon.com/bookversusmovie
Every $25 donation—we will cover your book/movie of your choosing!
Margo D. @BrooklynFitChik www.brooklynfitchick.com [email protected]
Margo P. @ShesNachoMama www.shesnachomamasblog.com