Book Vs. Movie Podcast
"Harry Potter & The Order of the Phoenix"
The 2003 novel Vs. the 2007 film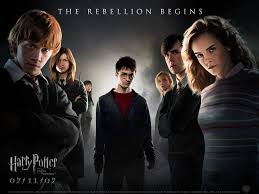 Watch out all you muggles and half bloods because the Margos take on J.K. Rowling's 5th novel in the original Harry Potter series. In this lively episode we discuss:
The main differences between the novel and the film.
J.K. Rowling's background from impoverished single mother to selling over 400 million books to date
The amazing actors that populate the Harry Potter world.
The dickiishness of Harry's dad.
How we tried very hard to learn all of the Potter trivia but most likely failed.
Book Vs. Movie podcast https://www.facebook.com/bookversusmovie/
Twitter @bookversusmovie www.bookversusmovie.com
Email us at [email protected]
Pinterest: https://www.pinterest.com/brooklynfitchik/book-vs-movie-podcast/
Margo D. @BrooklynFitChik www.brooklynfitchick.com [email protected]
Margo P. @ShesNachoMama www.shesnachomamasblog.com
Check out this episode by clicking below: