Brooklyn Fit Chick Review
"The Tomorrow Sleep Mattress"
Hey there! Hi there! Ho there!
It's been ages since I wrote a review of a product because most of what I am offered is just not very interesting to me. (Another protein bar? No thanks!)
So, when the folks at Tomorrow best hybrid mattress got in touch with me I thought "This has to be too good to be true. Are they going to send ME a mattress foam hybrid mattress for one honest review? How great can a mattress be?"
Just some background…I am a rotten sleeper by nature. Even under great circumstances, I have a hard time falling asleep and staying asleep.  I have tried everything under the sun from meditation to melatonin and nothing really seemed to fix my insomnia.
I had heard that memory foam hybrid mattresses work great for people like me and always wanted to give them a go. So, when the opportunity presented itself, I said "hell yeah" and jumped right in.
Here is what the Tomorrow memory foam hybrid mattress looks like in a fancy room. (Mine is not exactly "Blog-worthy" at this point.)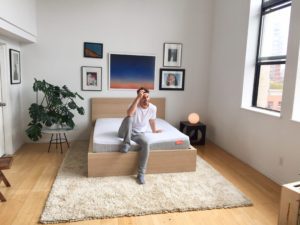 Serta Simmons put 40 sleep scientists on the case to create a sleep system guaranteed to help anyone get a good night's rest.
The memory foam hybrid mattress is designed with temperature regulating body foam to keep you cool enough to sleep along with a stabilizing coil system to keep you flopping around when you sleep.
I ordered the full-sized mattress in a medium firm that arrived in one box. It was less than 5 feet tall and not as big a box spring mattress. You cut open the mattress which is folded up inside and it sort of inflates out onto your bed.
I did this by myself and it took me less than an hour to get it all together.  It came with two memory foam pillows and a delicious sheet set that feels amazing when you snuggle in at night.
Here is a shot of my cat Tennessee enjoying the new mattress. (Cute kitty alert!)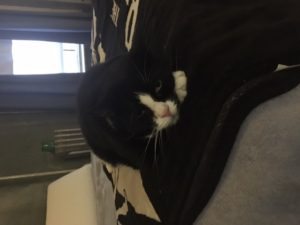 The mattress arrived last Friday and today is the following Wednesday as I write this. For the last four nights, I have had amazing sleep!  Super restful with deep dreams and when I wake up—I am ready to move and take on the day. I can't recommend enough the Tomorrow system.
Here is the best part of this post—you can try any memory foam hybrid mattress you want and receive $150 off any purchase $500 or more. From now until December 31.2017!!
The checkout code is FIT150 and here is the link.
Be sure to follow them on Twitter @tomorrow. 
Also, Facebook and Instagram.
Let me know if you have tried a memory foam hybrid mattress in the comments below!
Until next time!
Brooklyn Fit Chick