BROOKLYN FIT CHICK'S PLAYLIST
"RIP Avicii and Dolores O'Riordan Ride" (50 Minute Playlist)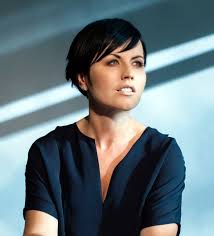 Hey there! Hi there! Ho there!
It has been way too long since I posted a playlist as my podcasting world has expanded into FOUR shows (and counting!) and finding the time to not only create new lists but to also post them has been a little overwhelming.
The recent deaths of DJ Avicii and Dolores O'Riordan made me want to revisit their beautiful music and create something special. Today's playlist is the usual mix of old and new and I hope it gives you that inspiration to run longer and faster than ever. I tried to get videos for all of them but their quality will vary.
I will be back as soon as I can with a new batch of tunes not randomly thrown together. Sending you good vibes wherever you may be!
My favorite song by him, period.
Synchronicity 1: The Police
This is one of my top go-to "second songs" to play in class, but make sure the stereo speakers are working. If one of them is out, it will sound funky (not in a good way.)
Now we get to the dancy beats of Fifth Harmony.  I love this song so much because it makes me want to show off my moves on the dance floor. (Not that they are worth showing off, but who cares?)
I plan to make K-os famous in America one of these days. (He is Canadian which means I like him sight unseen.)
Dammit, RIP Dolores O'Riordan!
This song makes me feel like a teenager (youthful but not as gawky as I really was.)
Lose Control: Missy Elliott
If you can withstand this beat, check your pulse.
Pray For Me: The Weeknd, Kendrick Lamar
The soundtrack for Black Panther is even better than the movie which is saying something, people!
This is one of the best songs I use for sprinting intervals because it has an intense feel to it without being overwhelming. Try it for yourself!
Sexy Back: Justin Timberlake
Okay, so his Super Bowl® appearance was a little less than inspiring, but his music still makes me want to move my booty and this song, in particular, gives me the "happies.'
Never Let You Go: Third Eye Blind
I actually like this song better than their biggest hit—Semi-Charmed Life.
When I want to give a "summery"/beachy feel—I put on this song. Great way to end before the cool down.
Empire State of Mind: Jay Z & Alicia Keys
This is probably my favorite song about my favorite city in the whole wide world.
That's it for me this time. I will be back soon with another batch of tunes to get you all kinds of motivated!
Until next time…
Ox Ox,
BFC
Brooklyn Fit Chick
Follow me on Twitter: "BrooklynFitChik" (note the spelling!)
Check out my podcasts here! http://bookvsmovie.libsyn.com/podcast and here http://fitbottomedgirls.libsyn.com/rss
Instagram: BrooklynFitChick (Warning! I post tons of pictures of my cats here.)