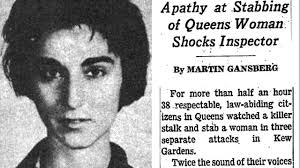 What a Creep "The Murder of Kitty Genovese"
Season 15, Episode 2
The Real Details & the Aftermath of One of the Most Famous Murders in New York City
The murder of 28-year-old Kitty Genovese made national news when The New York Times on March 27, 1964, claimed that 37 people watched as she was stabbed to death and did nothing to help her. The expression "Bystander Syndrome" was developed partly because of her crime and her death became a symbol of apathy and a lack of community on the rise. None of what we were taught turns out to be true. Today, I will talk about the real Kitty Genovese, police work in the 1960s, the terrible reporting by the Times and other news outlets, and what we can learn from this travesty.
Trigger warnings: murder, sexual assault, and rape.
Sources for this episode
American Psychological Association
New York Times Winston Moseley Death
A Crime to Remember Season 2 Episode 1
The Witness (William Genovese) by James D Solomon & Jessica Robinson
New York Times Sophia Farrar Obit
Original NY Times article March 27, 1964
Thirty-Eight Witnesses by A.M. Rosenthal
Kitty Genovese by Catherine Pelonero
Fifty Years After Kitty Genevese by Peter Hellman & Albert A. Seedman
Be sure to follow us on social media. But don't follow us too closely … don't be a creep about it!