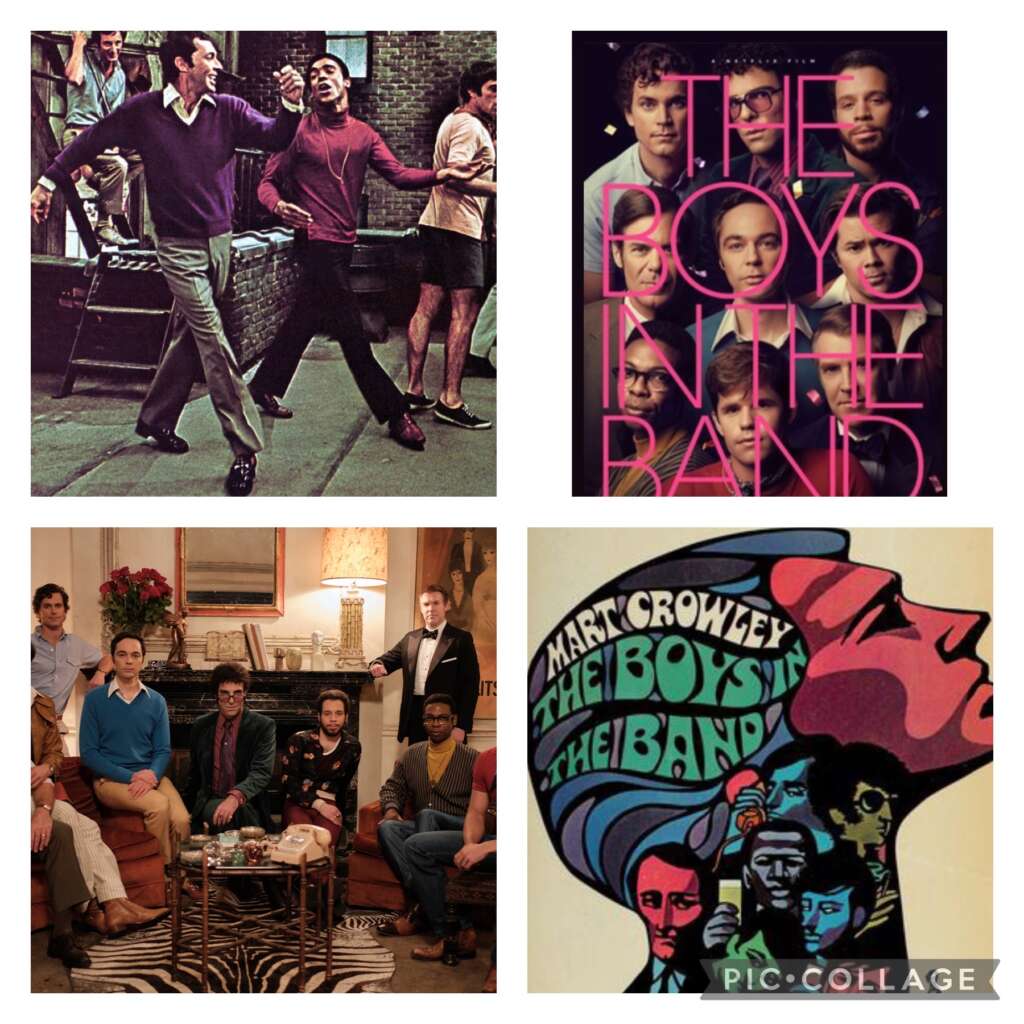 Book Vs. Movie: The Boys in the Band
The  1968 Play Vs. the 1970 & the 2020 Films
The Margos love the celebrate Pride Month and in the past, we have covered Fried Green Tomatoes, Love, Simon, and Call Me by Your Name among other titles. This time are covering a play that made a splash when it premiered off-Broadway in April 1968. The Mart Crowley story, The Boys in the Band, revolved around several gay men as they navigate life pre-Stonewall New York City. It went on to play over 1000 performances (always off-Broadway because that is how Edward Albee wanted it) and was first adapted into a film directed by William Freidkin.
Friedkin, who needed a hit at the time, hired the entire cast for the film and created a work that is remembered for being a milestone in queer cinema. Set in an apartment in Manhattan, a group of homosexual men gathers ostensibly to celebrate the birthday of one of their friends. Instead, the event becomes a tightly wound confrontation between the haves and have-nots. The beautiful and those that live a lie. It's at times off-putting, verbose, profane, funny, and sad. The original (1970) cast lost many members to AIDS in the 80s & 90s which adds to the melancholy of a current viewing.
The 2020 Netflix version features an all-openly gay cast including Jim Parsons, Zachary Quinto, Matt Bomer, Andrew Rannells, and Charlie Carver who play the same characters set in 1968 but with an updated script by Crowley and Ned Martel. It's produced by Ryan Murphy, Martel, and director Joe Mantello.
Between the original play and the 2020 adaptation–which did we like more?
In this ep the Margos discuss:
The interesting life of writer Mart Crowley
Life in the homosexual community in 1968
The 1970 cast: Kenneth Nelson (Michael,) Leonard Frey (Harold,) Cliff Gorman (Emory,) Laurence Luckinbill (Hank,) Frederick Combs (Donald,) Keith Prentice (Larry,) Robert la Tourneaux (Cowboy Tex,) Reuben Greene (Bernard,) Peter White (Alan,) and Maud Adams as a model.
The 2020 cast: Jim Parsons (Michael,) Zachary Quinto (Harold,) Matt Bomer (Donald,) Andrew Rennells (Larry,) Charlie Carvery (Cowboy,) Robin de Jesus (Emory,) Brian Hutchinson (Alan,) Michael Benjamin Washington (Bernard,) and Tuc Watkins as Hank.
Clips used:
Book Vs. Movie is part of the Frolic Podcast Network. Find more podcasts you will love Frolic.Media/podcasts
.
Join our Patreon page to help support the show! https://www.patreon.com/bookversusmovie
Book Vs. Movie podcast https://www.facebook.com/bookversusmovie/
Twitter @bookversusmovie www.bookversusmovie.com
Email us at [email protected]
Margo D. @BrooklynFitChik www.brooklynfitchick.com [email protected]
Margo P. @ShesNachoMama https://coloniabook.weebly.com/
Our logo was designed by Madeleine Gainey/Studio 39 Marketing Follow on Instagram @Studio39Marketing & @musicalmadeleine