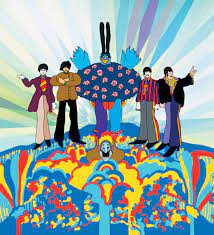 Book Vs. Movie: Yellow Submarine
The Beatles Classic Animated Psychedelic Trip
In 1968, The Beatles were the biggest band in the world and were eager to finish their United Artists deal (the company that produced A Hard Days Night and Help!) with a film that would uplift their audience (which included kids and adults) and take the animation world to a new level beyond Disney and stop-action holiday specials. Yellow Submarine took a hodgepodge of Beatles classics, new numbers, and filler tunes along with a "flower power" mindset to cement their reputations as daring creators.
There is simply no easy way to describe the impact the "Fab Four" had on world culture in the 1960s in one show. However, we thought that expanding the idea of a "book" to an iconic song and how they showed their art in a whole new format was as interesting and an adaptation as we could unpack.
The story of the residents of Pepperland who are under attack by the Blue Meanies and subsequently rescued by Sgt. Pepper's Lonely Hearst Club Band (n their yellow submarine) is weird and funny. Directed by Canadian George Dunning and written by Lee Minoff and Erich Segal (of future Love Story fame) it features just a few moments of the lads of Liverpool at the end (thus fulfilling their contract) and is chock full of songs that will make you sing and hum and feel wonderful.
It's now considered a classic in animation, but is it any good?
In this ep the Margos discuss:
The story of The Beatles
Animation in the 1960s
The animated voices: John Clive (John Lennon,) Geoffrey Hughes (Paul McCartney,) Peter Batten (George Harrison,) Paul Angelis (narrator/Chief Blue Meanie/Ringo Starr,) Dick Emery (Max/Lord Mayor,) and Lance Percival ("Young/Old Fred".)
Clips used:
Blue Meanies
Yellow Submarine trailer
"The Beatles" voices
Jeremy Nowhere Man
Robot Chicken version
Music by The Beatles
Book Vs. Movie is part of the Frolic Podcast Network. Find more podcasts you will love Frolic.Media/podcasts
.
Join our Patreon page to help support the show! https://www.patreon.com/bookversusmovie
Book Vs. Movie podcast https://www.facebook.com/bookversusmovie/
Twitter @bookversusmovie www.bookversusmovie.com
Email us at [email protected]
Margo D. @BrooklynFitChik www.brooklynfitchick.com [email protected]
Margo P. @ShesNachoMama https://coloniabook.weebly.com/
Our logo was designed by Madeleine Gainey/Studio 39 Marketing Follow on Instagram @Studio39Marketing & @musicalmadeleine