Listen to "Slaughterhouse Five (1972) Kurt Vonnegut, George Roy Hill, Michael Sacks, Ron Liebman" on Spreaker.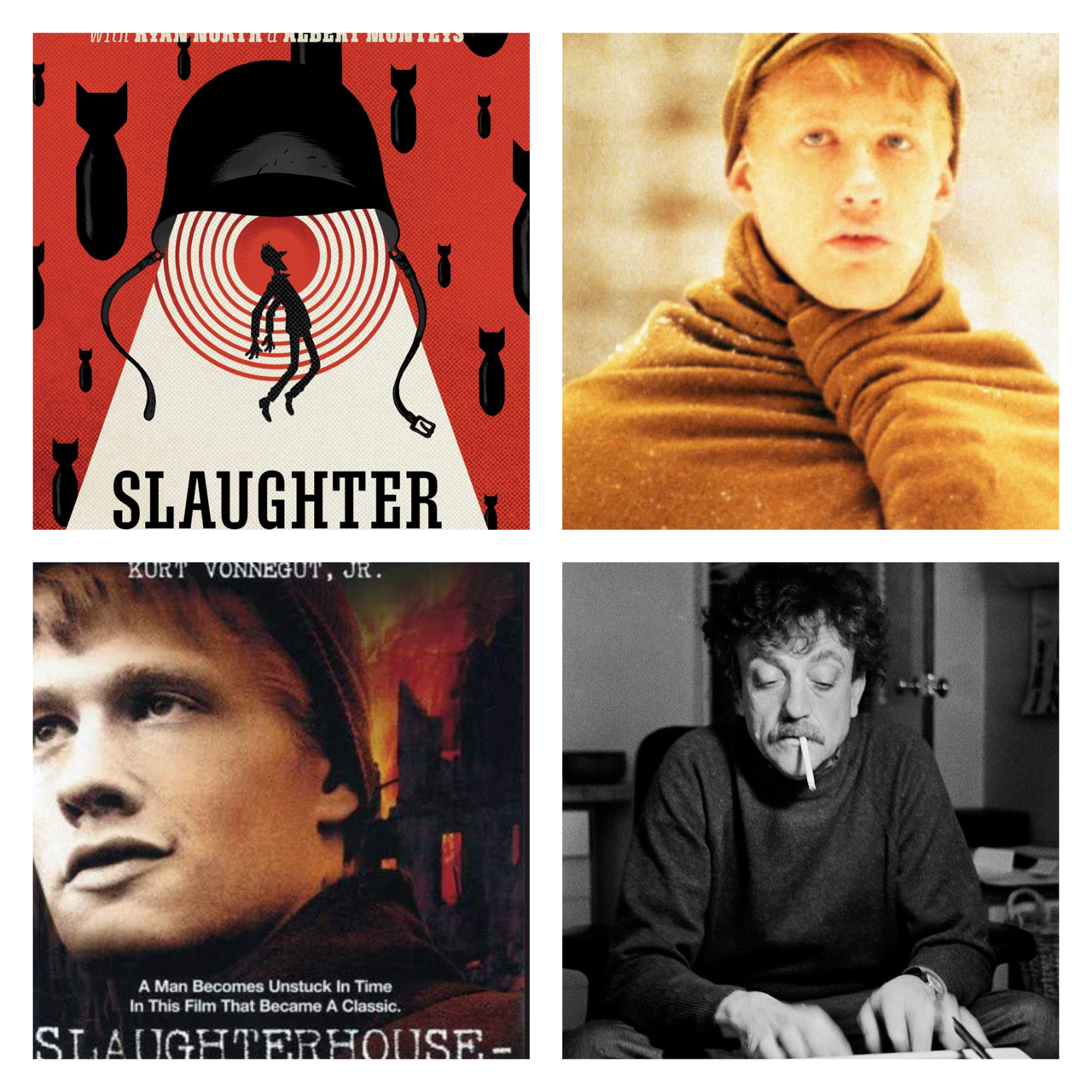 Book Vs. Movie: Slaughterhouse-Five
The 1969 Kurt Vonnegut Masterpiece Vs. the 1972 Filmed Adaptation
The Margos continue "Banned Book Month" with one of the most controversial works by celebrated author Kurt Vonnegut, 1969's antiwar novel Slaughterhouse-Five: or The Children's Crusade: A Dirty Dance with Death. Vonnegut's fictional account of his real-life experience as a prisoner of war and the WW2 Dresden bombing was published at the height of the Viet Nam conflict and appreciated by millions who loved the science-fiction blend of sex, the futility of war, American hypocrisy, and the meaning of life.
The lead character of Billy Pilgrim is "unstuck in time" as he moves from different events in life due to his traumatic war experiences. Captured by the Germans after the Battle of the Bulge, the weak Pilgrim and his cohorts are marched to Dresden during the waning days of WW2, not knowing that the allies were planning to bomb the open city that had approximately 25,000 citizens who were not in the military. By staying in a meat locker underground, he and a few others survive only to have to clean up what is left behind.
When he returns home, he encounters aliens from Tralfamodore who bring him to their planet to study him. This is when he learns he can time jump and find out exactly when he will die. In the end, he finds that life has no meaning, and…so it goes.
George Roy Hill (The Sting, Butch Cassidy and the Sundance Kid) directs the filmed adaptation, which stars Michaels Sacks, Ron Liebman, and Valerie Perrine, which made the author very happy.
So between the book and the film, which did we like better?
In this ep, the Margos discuss:
Kurt Vonnegut and his life's work plus his love of comedy
Banned Books and recent U.S. issues with this at schools across the nation
The themes of the book (or at least we try!)
Why this book is/was banned
The cast: Michael Sacks (Billy Pilgrim,) Ron Liebman (Paul Lazzaro,) Eugene Roche (Edgar Derby,) Sharon Gans (Valencia,) Valeria Perrine (Montana Wildhack,) Holly Near (Barbara Pilgrim,) Perry King (Robert Pilgrim,) Kevin Conway (Roland Weary,) Frederich von Ledebur (German Leader,) Sorrel Booke (Lionel Merble,) Roberts Blossom (Wild Bob Cody,) John Dehner (Professor Rumfoord,) and Richard Schaal as Howard W. Campbell Jr.
Howard W. Campbell Jr. wants to recruit the WW2 prisoners
Billy caught behind enemy lines
Death of Billy's wife
Singing on the plane
Music by Glenn Gould
Book Vs. Movie is part of the Frolic Podcast Network. Find more podcasts you will love Frolic.Media/podcasts
.
Join our Patreon page to help support the show! https://www.patreon.com/bookversusmovie
Book Vs. Movie podcast https://www.facebook.com/bookversusmovie/
Twitter @bookversusmovie www.bookversusmovie.com
Email us at [email protected]
Margo D. @BrooklynFitChik www.brooklynfitchick.com [email protected]
Margo P. @ShesNachoMama https://coloniabook.weebly.com/
Our logo was designed by Madeleine Gainey/Studio 39 Marketing Follow on Instagram @Studio39Marketing & @musicalmadeleine