https://www.spreaker.com/user/16143659/the-giver-full-show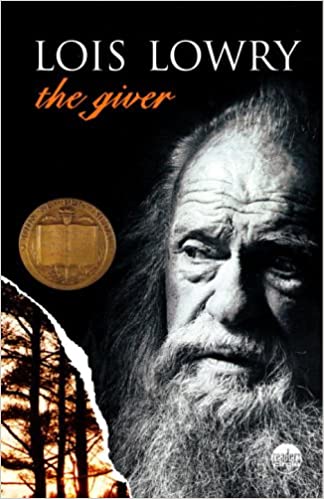 Book Vs. Movie: The Giver
The 1993 Classic 1993 Novel by Lois Lowry & the 2014 Movie
The Margos continue their "Banned Book Month" with The Giver by Lois Lowry, one of the most praised young adult novels of the 1990s that is also one of the most challenged books of the last 30+ years. Lowry based the story partly on her "army brat" upbringing with its strictness and her desire to honor life's journey throughout its ups and downs. We can forget that others do not have that privilege by wanting to live in a world without pain.
In the novel, our lead character, Jonas, lives in a Community where "sameness" is desired, and no one wants to stand out. Everyone has a role designed for them, and there is no music or dancing. Desire and wanting are considered "bad," and at 12, you are given your "adult" career.
Jonas is made a Receiver of Memory by an Elder and is training for the job when he learns that not perfect babies are "released" from the community and taken "Elsewhere." Jonas learns his father does his job, which enrages him, making him want to leave.
In the end, Jonas and "The Giver" decide to have him sneak away with baby Gabriel and try to find life on his own while saving the Community to learn to live with memories and emotions.
Lois Lowry won the Newberry Award in 1994 and wrote several sequels to the story. (Jonas lives, by the way.) WHY IS IT BANNED IN SO MANY SCHOOLS????
The film stars Jeff Bridges, who wanted direct it with his father, Lloyd Bridges, as the lead. When he died in 1998, the project went into turnaround. It was released by the Weinstein Company (BARF) in 2014.
So between the book and the film, which did we like better?
In this ep, the Margos discuss:
Jonas & Fiona
Jonas learns music
Taylor Swift scene
Fiona release ceremony
Book Vs. Movie is part of the Frolic Podcast Network. Find more podcasts you will love Frolic.Media/podcasts
.
Join our Patreon page to help support the show! https://www.patreon.com/bookversusmovie
Book Vs. Movie podcast https://www.facebook.com/bookversusmovie/
Twitter @bookversusmovie www.bookversusmovie.com
Email us at [email protected]
Margo D. @BrooklynFitChik www.brooklynfitchick.com [email protected]
Margo P. @ShesNachoMama https://coloniabook.weebly.com/
Our logo was designed by Madeleine Gainey/Studio 39 Marketing Follow on Instagram @Studio39Marketing & @musicalmadeleine