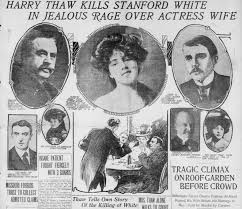 What a Creep
Season 17, Episode 4
The Murder of Stanford White
Architect Stanford White was one of New York's most revered architects who built the second Madison Square Garden & the Washington Square Arch, which stand today. In public, he was a bon vivant who moved with old school wealthy and the nouveau riche. He was also a creep who participated in the sexual assault of several young women as part of a group of entitled men in New York's high society. A Creep, Harry Thaw, killed him on June 25, 1906, because of one such assault on actress Evelyn Nesbit who was 16.
The trials of Harry Thaw caught the nation's interest and are a part of NYC lore. In this episode, we will discuss the major players and what happened to Evelyn after she outlived the Creeps.
Trigger warning: Sexual assault and abuse
Sources for this episode:
And for our non-creep: One of the strongest hurricanes to ever hit the United States and Cuba this week. And last week, Puerto Rico was hit by Hurricane Fionia. Here's a list of organizations accepting donations for those impacted by hurricanes, Ian and Fiona.
Caring for Others, an Atlanta-based nonprofit addressing poverty caused by natural disasters, is coordinating its "Caring Convoy" to transport relief supplies to Florida.
Americares is working with 148 local clinics and community health centers in Florida.
Global Giving accepts donations to provide food, emergency supplies, and more throughout Cuba and Florida.
Roots of Hope, a nonprofit Cuban youth organization, collects donations to help Cuban families.
Convoy of Hope is providing relief supplies in Florida and Puerto Rico.
Puerto Rican Civic Club is raising funds for solar lights and gas generators for Puerto Rico.
Global health and humanitarian Project HOPE mobilize emergency responders in Puerto Rico and the Dominican Republic. Donate to their Fiona relief fund here.
Animal Lighthouse Rescue is raising money to repair its sister shelter in Puerto Rico, El Faro de Los Animales, which was damaged in the hurricane.
Be sure to follow us on social media. But don't follow us too closely … don't be a creep about it!