Book Vs. Movie: Blow-Up
The Julio Cortazar Short Story Vs. the Michelangelo Antonio Movie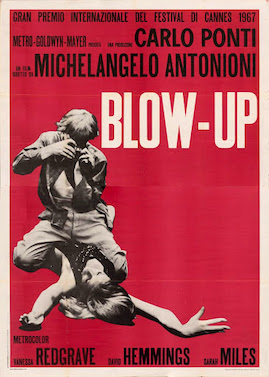 The Margos are feeling very mod today with this particular episode. We talk about Michelangelo Antonini, one of the most revered directors of the 1960s & 1970s, with a Palm d'Or, the Golden Lion, the Golden Bread, and the Golden Leopard among his film accomplishments. 1966's Blow-Up is his biggest English language hit, and it captured the New Wave movement in modern filmmaking. 
The original story is from Julio Cortazar in a short story titled "Las Babas del Diablo," written in 1959. The symbolism-heavy story is told with several unreliable narrators and the artist's relationship to their medium. Our protagonist is Roberto, a French-Chilean translator who loves photography and may or may not be connected to reality. He remembers watching a middle-aged woman in a park with a teenage boy. Is she procuring him for an older man? Roberto takes photographs and obsesses over the crime about to happen.
The 1966 film (Antonioni's first English-speaking production) follows Thomas (David Hemmings,) a fashion photographer in demand who obsesses over antiques and modernism. The movie also stars Vanessa Redgrave as a woman being photographed by Thomas in a clinch with an older man. She tries to seduce the roll of film from him after following him home. But he keeps the original and discovers, after blowing up the negatives) that he might have uncovered a murder.
Thomas travels through underground London (via The Yardbirds) and the pastoral field, seeking the truth.
So between the short story and movie–which did the Margos like better?
In this ep, the Margos discuss:
Clips used:
Vanessa Redgrave and David Hemmings
Thomas directs models
Thomas instructs Jane to move against the beat
Jane Birkin models
Book Vs. Movie is part of the Frolic Podcast Network. Find more podcasts you will love Frolic.Media/podcasts
.
Join our Patreon page "Book Vs. Movie podcast"
You can find us on Facebook at Book Vs. Movie Podcast Group
Follow us on Twitter @bookversusmovie
Instagram: Book Versus Movie https://www.instagram.com/bookversusmovie/
Margo D. Twitter @BrooklynMargo
Margo D's Blog www.brooklynfitchick.com
Margo D's Instagram "Brooklyn Fit Chick"
Margo D's TikTok https://www.tiktok.com/@margodonohue
You can buy your copy of Filmed in Brooklyn here!
Margo P. Twitter @ShesNachoMama
Margo P's Instagram https://www.instagram.com/shesnachomama/
Margo P's Blog https://coloniabook.weebly.com/
Our logo was designed by Madeleine Gainey/Studio 39 Marketing Follow on Instagram @Studio39Marketing & @musicalmadeleine