Book Vs. Movie: The Last Picture Show
The Larry McMurtry 1966 Novel Vs. the 1971 Peter Bogdanovich Film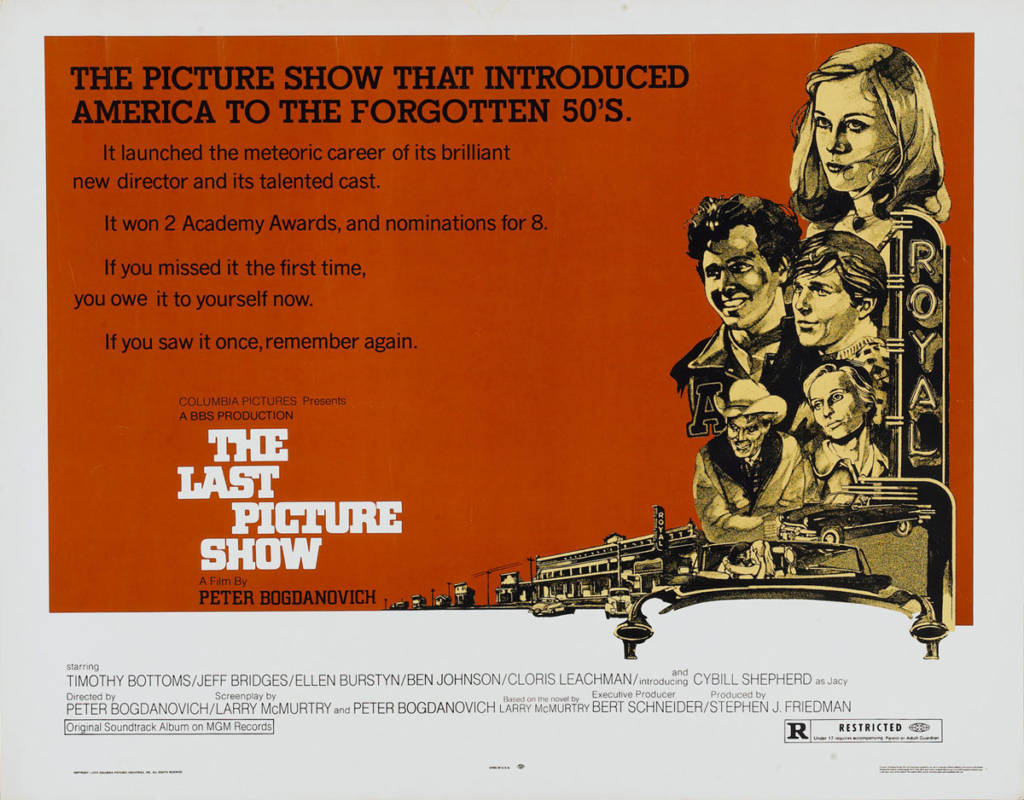 The Margos put on a Texas-sized episode of Book vs. Movie with The Last Picture Show–both the 1966 novel by Larry McMurtry and the 1971 film by Peter Bogdanovich. Both tell the tale of lonely people living in a forgotten Texas city with barely enough room for their hopes and dreams. 
McMurtry was a native of Archer City, Texas, born in 1936. When he was young, his family did not own many books and relied on oral storytelling to pass the time. A graduate of both the University of North Texas and Rice University, he would go on to create the town of Thalia as a stand-in for his native land to become the "Thalia: A Texas Trilogy," which includes Horseman, Pass By (adapted into the 1963 Hud,) Leaving for Cheyenne (adapted into the film Lovin' Molly in 1974) and 1966's The Last Picture Show.
He would go on to win a Pulitzer Prize for Lonesome Dove, and his status as a top-notch writer and collector of antique books held throughout his life.
The story of Sonny, Duane, Jacy, Ruth, Billy, and more would become a huge part of the film culture. The movie earned over $20 million at the box office on a small production budget and eight nominations for Academy Awards in 1972. It is listed in the United States National Film Registry.
At the time of production, the town of Archer City (named Anarene in the film) was scandalized by both the book and the movie. By the time the 1990 sequel Texasville was filmed in the same location and most of the original cast, the town had forgiven them all for the risque material.
So between the short story and movie–which did the Margos like better?
In this ep, the Margos discuss:
The bios of McMurtry & Bogdanovich
The differences between the book and movie
The cast of the 1971 film: Timothy Bottoms (Sonny,) Jeff Bridges (Duane,) Cybill Shepherd (Jacy,) Ben Johnson (Sam the Lion,) Cloris Leachman (Ruth Popper,) Ellen Burstyn (Lois,) Eileen Brennan (Genevieve,) Clu Gulager (Abilene,) Sam Bottoms (Billy,) Randy Quaid (Lester Marlow,) Gary Brockette (Bobby,) Sharon Taggart (Charlene,) and Bill Thurman as Coach Popper.
Clips used:
"Going to Mexico"
School Fight Song
Broken Bottle Fight
"Never You Mind"
Book Vs. Movie is part of the Frolic Podcast Network. Find more podcasts you will love Frolic.Media/podcasts
.
Join our Patreon page "Book Vs. Movie podcast"
You can find us on Facebook at Book Vs. Movie Podcast Group
Follow us on Twitter @bookversusmovie
Instagram: Book Versus Movie https://www.instagram.com/bookversusmovie/
Margo D. Twitter @BrooklynMargo
Margo D's Blog www.brooklynfitchick.com
Margo D's Instagram "Brooklyn Fit Chick"
Margo D's TikTok https://www.tiktok.com/@margodonohue
You can buy your copy of Filmed in Brooklyn here!
Margo P. Twitter @ShesNachoMama
Margo P's Instagram https://www.instagram.com/shesnachomama/
Margo P's Blog https://coloniabook.weebly.com/
Our logo was designed by Madeleine Gainey/Studio 39 Marketing Follow on Instagram @Studio39Marketing & @musicalmadeleine