BROOKLYN FIT CHICK'S PLAYLIST
"Thank You Ride" (55-minute Ride)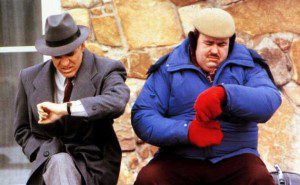 Hey there! Hi there! Ho there!
Today's playlist honors everything I love about the Thanksgiving holiday—mainly as a day to remember to be thankful, joyous and celebrate your friends & family. I put this list together with the hope it makes people feel happy. So pass the turkey and the white wine this way as we take a look at my top Thanksgiving-inspired tunes.
I included a photo of my favorite Thanksgiving movie above Planes, Trains and Automobiles but let me be clear—the music from that film is the WORST. Really the most terrible, awful, synthesizer-dependent soundtrack of all time!
Let the Day Begin: The Call
I love to begin with sweet & lovely song and it seems to get the ride off in a happy mood. This one always puts the class in a good mood.
Walking on Sunshine: Katrina & the Waves
This tune makes everyone bop their heads along to the beat. It also has one of those "damn, ain't it great to be alive?" moods to it.
Thank You (Fallentin Be Mice Self): Sly & the Family Stone
The formal "thank you" songs begin here and it is super funk-ay.
Because the crazy shopping begins on Friday (or on Thursday evening for some of those retail freaks out there.)
If there was ever song created to make people smile and feel good—this is the one.
What a Wonderful World: Joey Ramone
This is probably my favorite version of one of my favorite songs of all time.
Praise, celebration, fun times! This song has it and a catchy beat that I like to use for climbs.
Family Affair: Mary J. Blige
Let's celebrate like a functional family, people! (They do exist—right?)
I Want to Celebrate: Rare Earth
I use this one for sprint and high intensity intervals.
There is something wrong with you if you can't have a little fun with this my boys with the beards. Very naughty and nice at the same time!
One of the nice things about being the teacher is that I can put together any playlist I want. And that means I can include this little gem from Led Zeppelin 3.
The man holds the last note for over a minute people! What is better than that? (Sorry but no video is available of this tune!!!)
It's a Good Day: Peggy Lee
Not sure why this song has been stuck in my head lately but I figured this was a good of a time as any to include it in my class.
What is Dido up to these days? I really loved this album.
This is such a cool version of another favorite Led Zeppelin tune.
That's all I have today folks. Please, please know about some of your favorite songs. I am always looking for good tunes!
Until next time…
Ox Ox,
BFC
Brooklyn Fit Chick
Follow me on Twitter: "BrooklynFitChik" (note the spelling!)
Instagram: BrooklynFitChick
Pinterest: BrooklynFitChick
You Tube: BrooklynFitChick1