What Did We Learn This Month?
 Oxygen: November 2013
It's back!!! One of my favorite magazines in the world is on newsstands again and I could not be happier so let's get back to recapping!
What Do We Learn This Month in Oxygen?
"Fresh Start"
The November cover star is Felicia Romero (above) who plans to return to figure competing while also continuing her work with the "Fun Fit" workout group for kids in her native Arizona.
 "Go the Distance"
So have you been watching your runner friends compete in marathons and think to youself "hmmm—maybe I should give it a go?" Well Oxygen has a 12-Week Half Marathon training plan to help you get inspired for the 2014 season.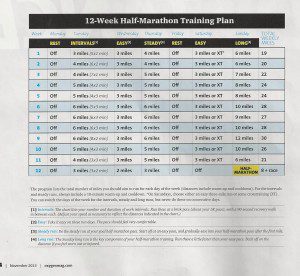 "Bring Up the Burn"
Lori Harder's butt-kicking workout is getting me inspired this month!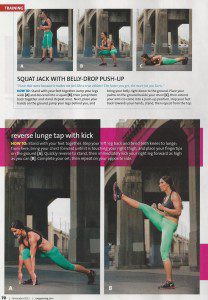 "One Workout Two Ways"
Badass trainer Rita Catolino shows how to use more muscle groups during strenuous workouts to make them even more effective in less time.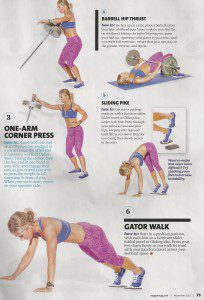 "Stair Sprints"
Try out this drill at your local track, park or stadium to get your cardio and body conditioning in while we can all still enjoy the great outdoors. (Winter is just around the corner, people!)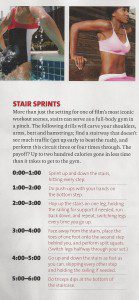 And now the rest of this issue of Oxygen:
"Cause for Celebration" My personal hero, Tosca Reno writes a "welcome back" essay and promises Oxygen will work hard to continue helping fit women of all ages "stay young, purposeful, inspired and driven." Yay!
"Macro Management" If you are looking to calculate your protein, carb and fats and need help with the "right combo of nutrients" then be sure to check out this article.
"The Easiest Gluten-Free Meals Ever" Yes, please!
"The Silver Linings Playbook" Olympic rower and silver medalist Rachelle Viinberg talks about overcoming injuries plus she explains the difference between training for a sporting event and training for a photo shoot.
Overall Grade:
A So damn happy to have you back Oxygen! You have been missed!
You can follow Oxygen magazine at www.Oxygenmag.com
Until next time…
Ox Ox,
BFC
Brooklyn Fit Chick
Follow me on Twitter: "BrooklynFitChik" (note the spelling!)
Instagram: BrooklynFitChick
Pinterest: BrooklynFitChick
You Tube: BrooklynFitChick1