BROOKLYN FIT CHICK'S PLAYLIST
"New Year's Day" (50-minute Ride)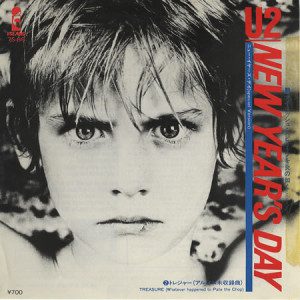 Hey there! Hi there! Ho there!
It might seem by the title of this week's playlist that I was celebrating the arrival of 2014 and therefore it is special for the New Year's holiday. No! The first track (one of U2's best IMHO) just happens to be an excellent song to start off a class. The beat is strong, consistent and helps everyone get into the mood to ride. Therefore–you can use this playlist any time of year for a kick ass workout.
Great warm-up song that can be played any time of year. Really!
Welcome to Paradise: Green Day
I always like to think of this song as THE perfect second tune to play in a spin class as it ramps up the energy and gets everyone in a good mood.
Gettin' Jiggy With It: Will Smith
Is there anyone more charming and likable than Will Smith?
But if You Close Your Eyes: Pompeii
This could be my new favorite band as they write some of the best songs for working out and getting motivated to move.
No More Drama: Mary J. Blige
I have talked about this tune before but it truly  is fantastic for hills and climbs.
I like to do strength intervals here with 15-seconds of hard work and 30-second rests in between.
Feeling Good: The Sheepdogs
This is another song I have talked about before but it is just too damn catchy for words!
Times Like These: Foo Fighters
One of my students recently told me "every time I hear the Foo Fighters– I feel like doing sprints."  The Foos know how to get people excited!
White Rabbit: Jefferson Airplane
"Remember what the door mouse said …feed your head!"
The Hardest Button to Push: The White Stripes
Bump, bump, bump—I love the beat of this song.
My students climb to this with gradually increasing resistance with the last minute being the toughest part. I tell them to work at their top level until they hear the gong. If you listen to this song you will know what I mean.
The Impression I Get: The Mighty Mighty Bosstones
I am not sure what a "bosstone" is but I do love this 90s tune.
That's the Way: Led Zeppelin
Throwing in a little Zep gives me the happies.
That's all I have today folks. Let me know about some of your favorite songs and radio stations. I am always looking for good tunes.
Until next time…
Ox Ox,
BFC
Brooklyn Fit Chick
Follow me on Twitter: "BrooklynFitChik" (note the spelling!)
Instagram: BrooklynFitChick
Pinterest: BrooklynFitChick
You Tube: BrooklynFitChick1