What Did We Learn This Month?
 Oxygen
February 2014
What Do We Learn This Month in Oxygen?
 "Reaching New Hights"
On the cover of Oxygen we have Elena Hight who is a badass snowboarder and therefore needs a butt-kicking workout to get into her amazing shape. In the magazine you can get her workout from her coach Brad Jones, CSCS, which emphasizes "power, strength and stamina."
Elena started competing professionally at age 14 and entered her first Olympics in Torino in 2006.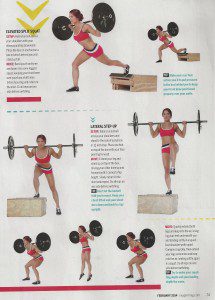 "Build a Gold Medal Body"
Some of the best female athletes who have competed in the Olympics offer their favorite exercises to get an overall top level workout. (This seesaw barbell press looks intense!)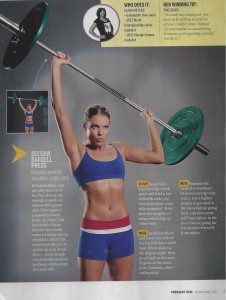 "Look Out Below"
You ankles and calves can help you stay steady and keep your core in shape but you have to learn how to work them properly. You can increase the strength and power of your jumps (and help undo the damage of high heels) with these moves.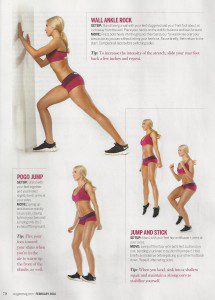 "Red, White and Blue for You, You and You"
Okay, the Ralph Lauren sweater looks far less tacky and busy in this magazine than it did in the press photos.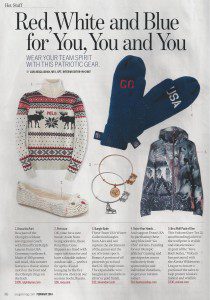 And now the rest of this issue of Oxygen:
"Your Inner Olympian" Tosca Reno (my personal hero) offers her advice for staying motivated in the winter months and gain an Olympic champion's attitude.
"Jump Yourself Slim" For some stranger reason I have no patience for jump rope workouts but the one featured in this issue looks like it is a calorie scorcher.
"Skeleton Sprints" Looking to increase your speed? This workout from U.S. Olympic skeleton racer Noelle Pikus-Pace should do the trick.
Overall Grade:
A-    This issue has plenty of workouts to keep every kind of athlete happy and challenged.
B-   
You can follow Oxygen magazine at www.Oxygenmag.com
Until next time…
Ox Ox,
BFC
Brooklyn Fit Chick
Follow me on Twitter: "BrooklynFitChik" (note the spelling!)
Instagram: BrooklynFitChick
Pinterest: BrooklynFitChick
You Tube: BrooklynFitChick1