BROOKLYN FIT CHICK'S PLAYLIST
"Hey Brother" (50-minute Ride)
(Also, Does Your Gym Stereo Suck As Much As Mine?)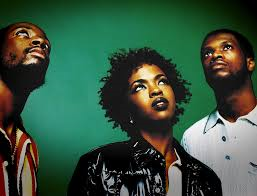 Hey there! Hi there! Ho there!
A few weeks ago I heard Killing Me Softly With His Song by Roberta Flack on the local oldies station and then switched to a hip hop channel and heard The Fugees remake only a few minutes later—spooky!  It was then I decided to download The Score and include them in my next playlist. Done and done.
Here is my quandary and I want to know if any of you out there experience this as well. Do you ever come across any songs that are/were recorded at too soft a volume to play on your gym stereo? Every once in a while, I play a tune in class that sounds like a whisper and even if I turn the stereo "to 11"—it just does not play loud enough.  Is it just me?  Does this happen to any of you as well?
That is exactly what happened with my Fugees this past week. I cranked the stereo all the way up and you could still barely hear Lauryn Hill which is a travesty.  Music industry—figure out this problem!
Anyway, today's playlist got an official thumb's up by the local high school track team who heard me play it over the loud speakers at my gym. Let's dive in…
Avicii is a Swedish DJ who is getting tons of airplay these days and this particular tune has kind of a country twang to it making it fun for a warm-up.
Crank It Up: Hipjoint (with Sherry St. Germain)
This song has a raucous, fun beat and (thankfully) plays super loud!
(Sorry–no video clip exists for this song. Try iTunes!)
Killing Me Softly With His Song: The Fugees
If you are not moved by this song in any way—you simply have no soul.
Boys Wanna Be Her: Peaches
Have you heard about the fabulous Peaches? This woman can rock bigger and better than most dudes!
If you like you like funky music—give jam a try. You'll be glad you did!
Jump Around: House of Pain
I saw a kid today dance his butt off to Jump Around and it made me smile.
This song has a bouncy feel.
Kings of Leon know how to create hard-driving tunes that get people to move faster.
Cannibal: Silversun Pickups
The latest from this band is really fast and perfect for sprint drills.
We're All In This Together: Sam Roberts Band
Sam Roberts is a totally adorable Canadian (you know I love my Canadians!)
Sweater Weather: The Neighbourhood
Not quite sure what it is about this song I like so much but it sort of draws me into a whole other world whenever I hear it.
I use Veruca Salt  to soothe my inner 90s rock chick.
All These Things That I've Done: The Killers
Let's end this ride with a cool down with this tune from my favorite band from Las Vegas.

That's all I have today folks. Let me know about some of your favorite songs and radio stations. I am always looking for good tunes.
Until next time…
Ox Ox,
BFC
Brooklyn Fit Chick
Follow me on Twitter: "BrooklynFitChik" (note the spelling!)
Instagram: BrooklynFitChick
Pinterest: BrooklynFitChick
You Tube: BrooklynFitChick1