Brooklyn Fit Chick
Tales of An Occasionally Bummed Out Optimist & the Mitt Romney Documentary
"The optimist sees good advance, though progress oft is slow; and if he is, by any chance immersed in tears of woe, he soon emerges from his trance, his teardrops cease to flow"
"The Sad Optimist" by Walt Mason (1921)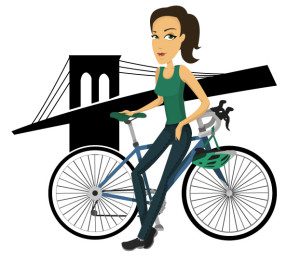 Hey there! Hi there! Ho there!
How are you all?
I will be honest—I have felt better in my life. It could just be this seemingly endless winter season (we are supposed to get ANOTHER snow storm this week!) that is giving me a case of the SADs or perhaps it is just a phase that needs to sort itself out but my mood has not been very fun lately. Not "can't get out of bed" bad but "eh, why even bother with (insert task here)" kind of energy and malaise that has been weaving its way into my thought process. I do not want to go out very much or have long talks on the phone with anyone.  I am a little too into my Netflix queue.
I do have moments of pure joy in my life and still love teaching but there is an edge of sadness that has appeared and I think I need to just knuckle down and deal with it. As an eternal optimist—assuming things will always work out as they should is my "go-to" but lately I can't seem to will myself happy. That's okay. I get it, No one is supposed to be positive all of the time but my own downer feelings of late have me rethinking what I want from my life & expect of myself.
"Are you one of those people who are always in a good mood?"
Ugh—that question! It's been a while but every so often someone who knows me only from teaching or cycling will ask me where I get my energy and why I always seem "happy." I have NO idea why they think this. The answer is no—I am not always happy. People really get on my damn nerves sometimes. I am impatient with my laptop and am thankful living in NYC prevents me from driving because no one with a license knows what the hell they are doing on the road!
However, there has to be something I sending out to the world that many folks assume I have a sunny disposition so the world doesn't bother me.
Let me be clear—I know exactly what is really happening in the big bad world out there. How horrible some people are, how hopeless some situations may actually be and/or my lack of being able to do anything to change any of them.
But I am in my nature—an optimist. The glass is half full. My home team will win that championship next year. Stephen King will read something I write one day and say "hey—nice work!"  And dammit—someday I will OWN A HOME and not be a renter my whole life.
Lately I have come to the realization that there just may be more sacrifices to make and I am NOT at the starting point of my next adventure yet.
And when I am confronted with hard truths and know that goals I have set for myself will take longer (much, much longer) to appear in my life—it really hurts. If a good attitude and hard work are not enough—what the hell else will it take? (A life of crime gives me the willies so that isn't an option.)
A funny happened while watching the Mitt Romney documentary…
My Blog is not about politics and I try like hell to keep mine to myself so let me just say that I am a documentary enthusiast and do not consider the political bent of a non-fiction film when I decide to give them a looksee on my Roku.
Mitt is a behind the scenes look at Mitt Romney's failed bid for the Presidency from 2008 & 2012. We never see his campaign managers or PR folks and only get a brief glimpse of his Vice Presidential candidate Paul Ryan. What the films uses as a framing device is Mitt with his family (I think there are about 100 immediate family members) who are not only encouraging him to run but KNOW IN THEIR HEARTS he will win. If there have ever been a more pep-worthy group people—I have yet to see them. They close ranks and fight like prize fighters for Romney throughout the entire film.
No one ever talks about polls or the latest Times OP-ED. You never hear about the infamous 47% comment. The Romneys constantly serve as a source of inspiration and positivity.
As the film starts a visibly shaken Romney asks if they have the President's phone number. He knows he has lost but cannot seem to understand why it is happening. It never seemed to occur to him he could possibly lose.
I kind of relate to Mitt…
No—I do not want to be all-powerful or have as much responsibility as the President of the United States. But I know what it is like to lose and wonder what the hell happened. Sometimes I am so damn optimistic that I forget to really look at the small details or fail to remember that fallbacks and letdowns are a part of a successful journey. You don't always get what you want when you want it.
That it is okay to be scared and anxious about the future. And just because you can manifest something into your life it doesn't mean it will guarantee happiness.
Mitt frets that people will forever view him as a loser and so do I. Positive people feel the sting of rejection in a way that cynics can't understand. It's more than a physical pain—it leaves a scar. We feel embarrassed for letting people down. We hate ourselves for messing up.
This is not about perfectionism (for the life of me I do NOT understand those folks!) It's not even about "winning" so much as goal-reaching. Positive energy and a good mental attitude are supposed to be so powerful. It can cure people of ailments and make the impossible happen.
Except when it doesn't.
That's how I can relate to Mitt.
Truthfully—If I were him I would take some of the money from that big old bank account, wipe my tears and get a hobby stat. But that's just me.
Life like is a marathon (or a century ride) and the journey itself is the reward.
So I am taking this downtime to reflect and pause. Allow a few tears to flow and remember to take a dance break once each day until I get my full-on groove back. My bike will soon go to the shop to be refreshed and dust-free.  My dreams are just starting to take hold in my life.
I am a sad little optimist right now but don't you fret. My smile will be back soon!
Until next time…
Ox Ox,
BFC
Brooklyn Fit Chick
Follow me on Twitter: "BrooklynFitChik" (note the spelling!)
Instagram: BrooklynFitChick
Pinterest: BrooklynFitChick
You Tube: BrooklynFitChick1