What Did We Learn This Month?
 Shape
October 2014
Shape Cover Star for October 2014:
One of Howard Stern's favorite guests is TV personality Maria Menounos who has a fun spirit and a seriously goofy laugh (I mean that in a good way.)
When Maria was in college she gained almost 40 pounds trying to out-eat most of her dude friends (dude friends are always dangerous, by the way) and now she keeps fit with a sane workout schedule and healthy eating habits.
Maria has a new book out called The Everygirl's Guide to Diet and Fitness and you can catch her in full "band workout" mode inside the magazine.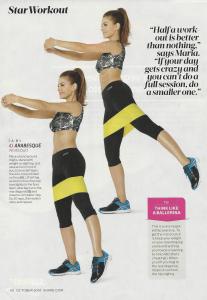 What else is in this issue of Shape?
"Form Check: The Squat"
As a trainer I can tell you that if there is one move we observe  to check out the fitness level of a potential client—it's the squat. I really loved this description on what to look for in a proper squat by Brent Brookbush, D.P.T.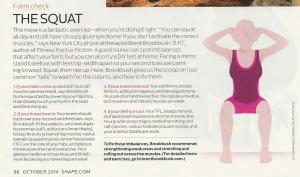 "Shop for a Cause"
October is Breast Cancer Awareness month but you should be shopping for cute pink things all year round. This page features items that will support breast cancer charities.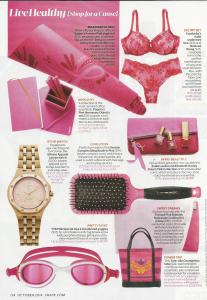 "Transform Your Trouble Zones"
Shape asked trainer Lisa Kinder of the 10-Minute Solution: High Intensity Interval Training DVDs for her favorite muscle-toning moves. Love this page that focuses on abs…,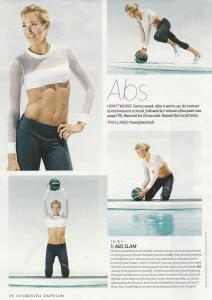 "2014 Beauty Awards: Star Power"
The best lotions, potions and fun hair care things to keep you looking gorgeous.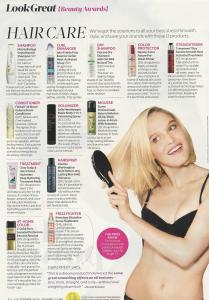 "Tool Time"
If you are like me—you need to foam roll constantly to help out the knots in your back and tight IT bands. Shape has the best products on the market to do just that.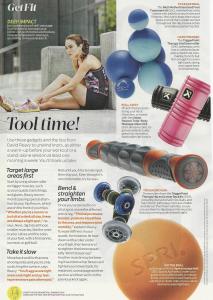 "The Good Fight"
One of the best ways to get healthy and learn self-defense is to learn martial arts. Here we get "Martial Arts 101" and a "Lingo Lesson" from Guillermo Gomez creator of the Martial Fusion workouts.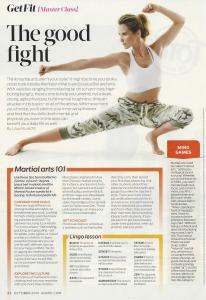 "Tune Up Your Yoga Routine"
Lashaun Dale of Equinox gyms teaches a yoga class called "Flow Play" which is a Vinyasa workout with a carefully selected playlist.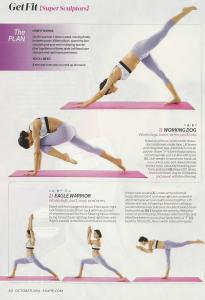 And now the rest of the best of this issue of Shape:
"Step Right Up" Incorporating stairs and bleachers can help ramp up your workout according to Paul Juris of the Cybex Research Institute.
Follow Shape magazine online at: www.Shape.com
Overall Grade:
A I was happy with the workouts featured and the shopping pages were cute and useful.
(If you are reading this on a different site or a different feed than Brooklyn Fit Chick, it has been taken without permission.)
Until next time…
Ox Ox,
BFC
Brooklyn Fit Chick
Follow me on Twitter: "BrooklynFitChik" (note the spelling!)
Instagram: BrooklynFitChick
Pinterest: BrooklynFitChick
You Tube: BrooklynFitChick1