Brooklyn Fit Chick
 "Yep, A Dog Scratched My Face" Post
How I Spent My New Year's Eve, Lessons on Gratitude,
Plus: My Goal to Be More Like Chris & Theresa in 2015
Hey there! Hi there! Ho there!
So how was your New Year's Eve? Mine was 99% supremely awesome. I spent it with great friends who live just around the block from me. Do you understand how amazing that is? I could (potentially) drink my weight in champagne and walk home in no time. Oh my, it started off so well.
There was drinking and merriment.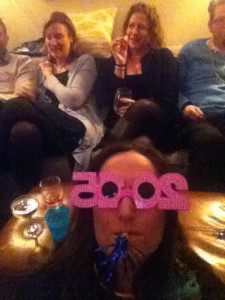 I wore party shoes (my Kate Spade statement heels)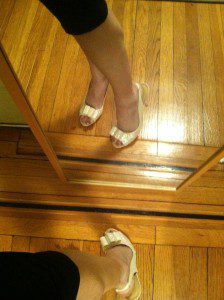 I hung out with my homies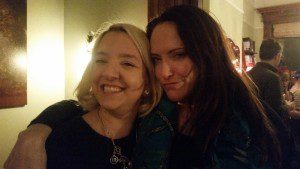 There was a floating shark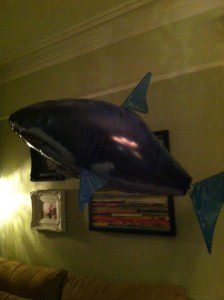 "White Lines" by Grand Master Flash invaded the room…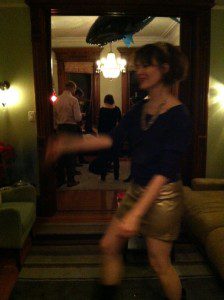 And then….as the clock struck 1 am and I decided to head home. But first I wanted to just pet the home owner's doggie goodbye as I left and let's just say…I might have zigged when I should have zagged because it seems as if I got just a little close too his sweet face for comfort as he took a swipe at me missing my left eye by thismuch.
Oh—and while I was cleaning out my wound one of my contacts fell out so I was half blind and trying to assess what just happened to me. (Only a nightmare I have been imagining since I got my first pair of contacts in the seventh grade.)
So this is where the gratefulness comes in—stick with me!
I am grateful because my friend Sage was right there when it happened. He is an ER doctor and made sure I was taken care of right away. He called the local hospital and insisted I get stiches. (I was blubbering about wanting to go home but my friends wisely put the kibosh on that.)
So my friends Chris and Theresa took me to the hospital in Sunset Park on New Year's Eve which is an interesting night to be at an ER to say the very least. That sat with me until 5 am and kept me calm. We talked movies, music and podcasts when Chris reminded me that an awesome woman named Tina Fey has a scar on her face and it doesn't stop her from doing anything she wants in her life.
At 5 am I took this selfie to show off my surgeon's amazing stitching: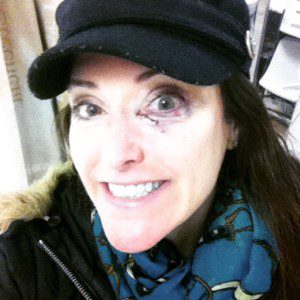 I tried to bribe the doctor with a $100 Amex gift card to get some Botox and fillers while we were at it but she explained they don't keep those on had in the emergency room in Sunset Park. (Never hurts to ask!)
Since then I have been taking it easy on the couch and getting caught up for the next episode of the Book Vs Movie podcast (we are back with our first episode of the 2015 Primary Colors available for download on January 17th!)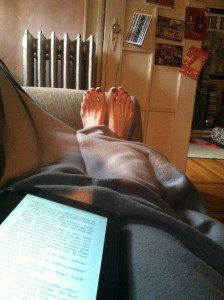 I snuggled with my kitties Tennessee
And Sweet Sarah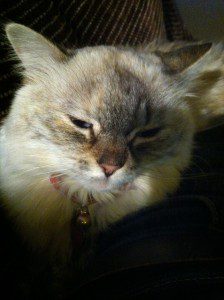 I have also been fighting a nasty cold at the same time so let's just say I am currently NOT as pretty as a picture but I am still so damn grateful.
What am I grateful for?
I am grateful I have such good friends to hang out with on New Year's Eve who can also handle an emergency.
I am grateful the dog didn't take out my eye.
I am grateful the surgeon took her time to make sure my stitches were handled correctly.
I am grateful for Chris and Theresa for taking care of me with no thought to how long it would take and without really knowing the neighborhood we were driving in the middle of the night on New Year's freaking Eve! (They have ensured very good karma for them in 2015.)
I am grateful for all of my friends and family who have been checking in on me.
And just so you know—me and the dog are super cool. He really is a good boy. I know it wasn't personal.
But when people say let sleeping dogs lie—believe them!
Since then (has it only been 5 days? Wow!) I have taught five spin and two core classes so let's just say I am a badass who will handle this obstacle. 2014 may have left me bruised and battered but I am determined to kick 2015 right square in the pants no matter what!
I am also thinking of how I am going to incorporate being more like Chris & Theresa from now on because they rock so freaking hard! (Those two crazy kids got engaged this past year so I am sending them a Mazel as well!)
I want to be the kind of person who deserves this much love and care when I am completely vulnerable. They have reminded me about the power of kindness so once again—I am grateful!
Next week I will be back with a fabulous Weight Watchers dance workout kit giveaway so stay tuned when I will post my Vlog again. I hope you understand—with a black eye and a runny nose I just did NOT feel like putting my face on You Tube just yet. Hand to god—next week for sure.
Coming up this week I will have my Tria review and my own personal look at the January Women's Health magazine so keep checking back here!
(If you are reading this on a different site or a different feed than Brooklyn Fit Chick, it has been taken without permission.)
Until next time…
Ox Ox,
BFC
Brooklyn Fit Chick
Follow me on Twitter: "BrooklynFitChik" (note the spelling!)
Instagram: BrooklynFitChick
Pinterest: BrooklynFitChick
You Tube: BrooklynFitChick1