Brooklyn Fit Chick News & Notes: Week of July 10th Edition
"Book vs Movie" Podcast News (Field of Dreams & Stand By Me)
"Coach Nicole" Flies Solo on Her New Venture
Plus: Women's Health Magazine's "Next Fitness Star" Competition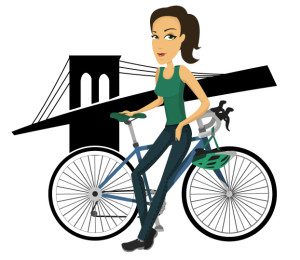 Hey there! Hi there! Ho there!
Can you believe the summer is halfway over? I have been busier than the proverbial bee these last few months with family obligations, work (day job) and teaching all of my classes that my personal wellness has suffered a bit. I am trying to get back in the saddle diet (healthy eating) and getting more rest at night. The box jumps and sprints will have to wait until I get back to my base level of fitness. Stress can truly be a silent killer and my goal is to learn how to manage it better and not let my health suffer.
Okay—let's get back to the fun. Today I want to talk about our latest podcast news, a fitness instructor you MUST follow on Twitter and Women's Health magazine's newest competition to find the "Next Fitness Star!"
Brooklyn Fit Chick News & Notes:
Book Vs Movie Podcast News: Margo Porras of Shes Nacho Mama's Blog co-host the "Book Vs. Movie" podcast (that you can subscribe to via iTunes at this link) recorded our Field of Dreams episode last week and think it's one of our best episodes yet.  (Did you know the Kevin Costner classic was a book first? It was called Shoeless Joe by W.P. Kinsella and boy did they make some changes between them!)
You can listen to the link below and if you have harbored a crush on actor Dwier Brown who played Ray's dad (swoon!) then you will appreciate how excited I got when he responded to our shout-out on Twitter! (Yippee!) You can follow him on Twitter as well @dwierbrown and he also has a website www.dwierbrown.com.
With our next episode we are going back to the 1950s with Stand By Me from Stephen King (also known as the novella The Body)
We are planning our next few episodes so if there are any books & movies you want us to cover—feel free to comment below!
Coach Nicole at Home: Many moons ago when I started out as a fitness instructor I would constantly scour clips on You Tube to get ideas on how to teach an actual class. My first love was teaching spin and it seems daunting to me to try any other kind of classes. Well Coach Nicole Nichols of Spark People pretty much saved my life! The first clip I ever memorized was her 15-Minute Abs Workout which I repeated basically word for word for my own classes. (Truth!)
Well Coach Nicole is on to her next venture and will soon be hosting workouts on her very own website which goes live on August 1st. In the meantime, be sure to like her Facebook page and follow her on Twitter here. (love you Coach Nicole!
Women's Health Magazine "Next Fitness Star" And speaking about the next generation of fitness experts—check out these applicants from Women's Health magazine who are competing to be the next fitness star! They look like a fierce group!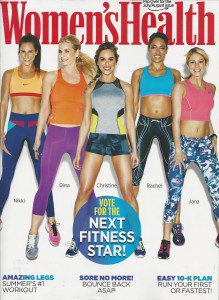 WOMEN'S HEALTH MAGAZINE ANNOUNCES FINALISTS FOR 3rd ANNUAL "NEXT FITNESS STAR" COMPETITION 
WINNER TO BE REVEALED ON NBC's TODAY & WIN A FITNESS DVD CONTRACT 
New Webisode Series of Competition to Launch on WomensHealthMag.com, sponsored by EAS Sports Nutrition
July 9, 2015—New York, NY—Women's Health, the leading national and international women's health and wellness magazine announces the third annual "Next Fitness Star" national search for the next face in fitness.  After receiving thousands of submissions across the country from talented and dynamic personal trainers, Women's Health has chosen the top five finalists who appear on the flip cover of the July/August issue and compete for their own fitness DVD contract.
The winner will be selected by a combination of a celebrity judging panel including NBC's Today host Natalie Morales, NBC's Today fitness and lifestyle correspondent and ACE-certified personal trainer Jenna Wolfe, Extreme Weight Loss's celebrity trainers Chris and Heidi Powell,  Women's Health Editor-in-Chief Amy Keller Laird and reader / fan votes.   The winner will be revealed live, exclusively on Today in August 2015.
With the support of sponsor EAS Sports Nutrition, the 2015 competition allows  fans the opportunity to  workout along with finalists and vote daily for who they think should win the title of "Next Fitness Star" via www.thenextfitnessstar.com
"Women's Health offers a tremendous platform to these trainers by providing an opportunity to reach millions of active readers," says Laura Frerer-Schmidt Vice President and Publisher of Women's Health. "When it launched, 'Next Fitness Star' was the first of its kind in this industry. The competition has proven to have the power to change a person's career."
New this year, Women's Health in conjunction with Hudsun Media, a multi-platform production and creative agency, will also launch the first ever Next Fitness Star webisode-series for the competition. In the bi-weekly show, viewers can see just what it takes to become a star trainer, get to know the finalists and meet the team behind the Next Fitness Star platform.
EAS Sports Nutrition, a brand of sports nutrition products from health care company Abbott, is the joint sponsor for both Women's Health's "Next Fitness Star" and Men's Health's "Next Top Trainer" programs through a multi-platform advertising commitment across both brands. This partnership invites consumers to participate in the unique contests and leverages EAS's expertise in performance nutrition.  Women's Health "Next Fitness Star" aligns perfectly with EAS's core messaging  which aims to inspire, motivate and prepare individuals each day to achieve their personal best.
"A partnership with Women's Health "Next Fitness Star" is a seamless fit for EAS," EAS GM, Heather Fries said. "Women's Health is a top choice for women trying to better themselves with fitness and nutrition, and EAS stands for the relentless pursuit of performance. We are the top choice for athletes looking for a high quality sports nutrition product. When athletes incorporate our products throughout their training journey, they recover better and feel prepared to take on whatever their fitness challenge is. EAS has a heritage of being an innovator and leader in the sports nutrition space and our mission is to help athletes improve their health and performance through better nutrition. By partnering with Women's Health, we feel that we can positively impact the health, performance, and overall experience of their readership.
2015 "Next Fitness Star" Finalists:
Jana Hare, 29 // Lexington, KY
Jana is a trainer specializing in multiple areas of fitness–certified in boxing, Bodycombat, beginner/intermediate sparring, mixed martial arts cardio, Zumba, Hip Hop Hustle, AquaFit, strength training, dance aerobics, spinning, and a focus on Ariel Yoga. She has her Master's Degree in Exercise Science and a thriving passion for health and fitness. Dubbed the "Cardio Queen" in Kentucky—Hare also recognizes the power of weight lifting for maximum results. She has launched her own company Dumbbell Bombshell Fitness, an e-commerce and editorial destination site for fitness tips, videos and workout plans.
***
Dina Juve, 41 // Fresno, CA
Dina is a Certified Kettlebell Instructor, Battling Ropes Coach, TRX trainer, Barre instructor and Co-Founder of FitnessSocial Studio, with 12 years experience in the health & fitness industry. At a young age, she was diagnosed with juvenile arthritis and spent years overweight and inactive. Now a mother of four, Dina has successfully lost (& kept off!) over 80 pounds in the last 20 years, working through several medical issues including arthritis, spinal stenosis, and an autoimmune disease. Dina is the creator of the "Lean Out Cleanse & Slim Down Program," an ambassador for lululemon Athletica, and is currently enrolled with Deepak Chopra at the Chopra Center in the Perfect Health Teacher Training. The workouts she selects for herself and her clients provide fast results; both weight loss and a quick lean out.
***
Christine Bullock, 33 // Redondo Beach, CA
Practicing what she preaches, Christine Bullock has turned her expertise and passion for fitness, nutrition, and beauty into a dynamic lifestyle business. As an accomplished ballerina who started dancing at age three, Bullock has a lifetime's worth of knowledge and insight into the importance of a consistent athletic routine and ongoing healthy eating habits. Passionate about helping others attain health and happiness, she has spent over 17 years working with health and beauty industry leaders all over the globe and has counseled and trained thousands of people to improve their health and well-being both inside and out. Bullock has certifications in Pilates, Barre, Yoga and Pre & Post-Natal, and is also certified as a Nutrition and Wellness Counselor.
***
Nikki Metzger, 29 // Scottsdale, AZ
Nikki Metzger is a Certified Personal Trainer, Nike Master Trainer and Owner of BODI, a high intensity gym in Scottsdale Arizona, which recently won 7 Best Of Our Valley awards, including Best Gym & Best Trainer & Fittest Female. Metzger's mission is to set a new standard for group fitness. She has created a unique, focused, and competitive environment that forces her clients to test new boundaries. Prior to BODI Nikki was the General Manager and Lead Instructor at Chicago, ENRGi Fitness and was also nominated as one of Chicago's Hottest Trainers in 2013 by Racked Chicago. Metzger has trained clients of all different fitness levels and has taught a variety of group fitness classes over the years with a focus on strength & conditioning bootcamps, dance fitness and barre.
***
Rachel Nicks, 31 // New York, NY
Rachel Nicks a certified Hatha yoga, barre, TRX and prenatal and postpartum fitness instructor, in addition to being a certified doula. Beginning her training at Exhale receiving the 275 hour core fusion barre certification, Nicks has been working in the wellness industry for the past five years and is currently a lead instructor at BFX Studio in New York City. Nicks was a graduate of The Juilliard School, and from that experience influences her clients to not only move, but to be present in your body and actually enjoy moving. Nicks is also an actor with roles on network shows including Nurse Jackie and Grey's Anatomy. Between her training and acting, Rachel dedicates her time to giving back to her local community with a strong influence from her mother, a former special education teacher, who taught her to "never judge, accept people for who they are and where they are in their journey and to do my best with a smile and a positive attitude."
For information head to: www.TheNextFitnessStar.com and on social at @womenshealthmag and #NextFitnessStar.
That's all for me this week. I will be back soon with magazine reviews, playlists, reviews and so much more. Stay in touch!
(If you are reading this on a different site or a different feed than Brooklyn Fit Chick, it has been taken without permission.)
Until next time…
Ox Ox,
BFC
Brooklyn Fit Chick
Follow me on Twitter: "BrooklynFitChik" (note the spelling!)
Instagram: BrooklynFitChick
Pinterest: BrooklynFitChick
You Tube: BrooklynFitChick1