BROOKLYN FIT CHICK'S PLAYLIST
"Bruno Mars" Ride (50 Minutes)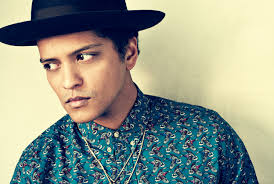 Hey there! Hi there! Ho there!
There have been so many tunes running through my head lately and I have been remiss in creating a new playlist over the last couple of weeks. My bad habit of procrastination rears its ugly head when I can't seem to find the "just right" song to start or finish the ride. Then one of my students recently asked "why aren't you playing more Bruno Mars in your classes?"
With that suggestion I moved on through to create a playlist with a mixture of old and new tunes that I hope will serve your workout needs. The cool down tune was my mother's idea and I think it makes the whole ride really special.
Let me know what you think of it and remember—I need song suggestions, always. So be sure to post them in the comments below!
Thanks!
Locked Out of Heaven: Bruno Mars
In my opinion Locked Out of Heaven is the best song on Mars' Unorthodox Jukebox album and it has a fantastic steady beat to start the workout in a bouncy, fun mood.
Out of My League: Fitz & the Tantrums
This is one of those "every eventually starts bopping their heads" tunes that always makes me smile when I see the effect it has on the room. Also—it sounds amazing on a good stereo out loud so go for it!
If you really want some early 80s funk mixed in with some perfect roller boogie swagger than you have to try this one out in your ride.  (I had to include an American Bandstand video just for nostalgia's sake!)
Boys Wanna Be Her: Peaches
Peaches is a kick butt singer and songwriter that I first learned about on The Henry Rollins Show and it has been my mission to get as many of my students to learn about her as a I possibly can. Enjoy!
Apparitions: Matthew Good Band
Climbing and strength segments are a big part of most of my cycling classes because even though it is a cardio workout—your leg muscles can get some great definition if you add resistance. This song is slow and deliberate but has a great "build" to it so that at the end—everyone is working at their highest level.
This song was David Letterman's favorite by the Foos and he had so much clout that the band played it on one of his last shows. It also totally rules and I can listen to it every day.
Hypnotize: The Notorious B.I.G.
Let me make this clear—if you wish to play this out loud in one of your classes please be sure to use the "clean version. Trust me on that (holler back from Brooklyn!)
Somebody Told Me: The Killers
When I ready to work in some sprints into the mix this tune from The Killers moves at a quick place and will get the heart rate up.
What is better than Gwen Stefani and Moby collaborating on a song? Nothing, I say! South Side has a languid, dreamy quality with a killer guitar riff tearing through it.
One thing that drives me crazy about playing this out loud in class is that it is recorded so low that I have to blast the volume to get it to sound correctly in the room. Otherwise to me it is damn near perfect though Lisa "Left Eye" Lopes hated the message it conveyed to young women. (She isn't wrong, by the way)  However, I love it because the beat is so catchy and powerful!
I Heard I Had: Dear Rouge
If you are looking for a dance/electronic tune to play in your class that has not been played everywhere—try this one from this Indie Canadian band. (LOVE IT!)
Just did some research and learned that Doin' Time is almost 20 years old (released in 1997) which makes me feel completely ancient.
The cool down song is brought to you at the suggestion of my mom which makes me happy. :
That's it for me this time. Now go out there get your workout in!
Until next time…
Ox Ox,
BFC
Brooklyn Fit Chick
Follow me on Twitter: "BrooklynFitChik" (note the spelling!)
Instagram: BrooklynFitChick
Pinterest: BrooklynFitChick
You Tube: BrooklynFitChick1