BROOKLYN FIT CHICK'S PLAYLIST
"Bowie & Freddie" Playlist (50 Minute-Ride)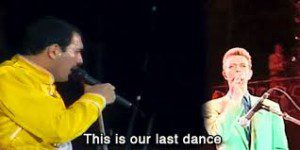 Hey there! Hi there! Ho there!
As I write this post it has been exactly a week since we lost David Bowie and just a few days since Alan Rickman took his acting genius to the big stage in the sky. These are sad days my friends but I refuse to let that stop me from putting a little nostalgia into my playlists to show these amazing artists the respect they are due.
So today I have just one song featuring one of my faves by Bowie and the incomparable Freddie Mercury (who should also still be with us, dammit!)
Let me know what you think of it and remember—I need song suggestions, always. So be sure to post them in the comments below!
Thanks!
Best Look Lately: Dear Rouge
If you are looking for a fun, upbeat song to begin your workout—this one by Dear Rouge (a married duo from Alberta) will do very nicely.
Ch-Check it Out: Beasite Boys
Adam MCA Yauch is gone too! (Life is most unfair, is it not?)
Pumped Up Kicks: Foster the People
Here we have another peppy tune that people always seem to enjoy when I play it in class.
I am an American on a mission to get this Canadian band the recognition they deserve. Buy their music, people!
If you are not familiar with Ladytron they are a rock, new wave, synth, techno, alternative band from Liverpool that does tons of remixes for big stars all the time. Listen to them!
The Pit: Silversun Pickups
I love this band for their hard charging music that is perfect for doing fast intervals and sprints.
Get the Party Started: P!nk
This song has that "everyone in the room is immediately on board" kind of quality to it. In other words—it is always a winner.
Tell Me Baby: Red Hot Chili Pepper
I use this song for high intensity drills (HIIT) because the Peppers music is perfect for that sort of thing,
Under Pressure: Queen & David Bowie
They should BOTH still be with us, dammit!
Family Affair: Mary J. Blige
This number by Mary J. Blige is another "room winner" that gets everyone in a good mood.
I like to finish with a big climb and Kanye, though just a tad egotistical, knows how to create a beat that will keep you motivated.
I and Love and You: The Avett Brothers
For the cool down music The Avett Brothers always do nicely. Why they didn't just name this one "Brooklyn Take Me In" confounds me but "I and Love and You" is kind of memorable. I guess…
That's it for me this time. Now go out there get your workout in!
Until next time…
Ox Ox,
BFC
Brooklyn Fit Chick
Follow me on Twitter: "BrooklynFitChik" (note the spelling!)
Instagram: BrooklynFitChick
Pinterest: BrooklynFitChick
You Tube: BrooklynFitChick1