Brooklyn Fit Chick News & Notes February 2016
Winning a Yoga Mat from Reebok & Tara Stiles!!
Fit Bottomed Girls Latest Articles Talkin' HIIT Workouts
and Lower Ab Moves
Plus:
 "Book vs Movie" The Perks of Being a Wallflower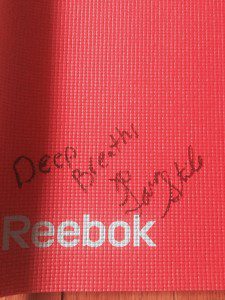 Hey there! Hi there! Ho there!
I am one of those people who love to complain how I won exactly one trophy when I was a kid. It was by the local Fire Department and they asked for kids in my grade to paint something that would speak to fire prevention. My family was big into camping at the time so I create a pastiche to forest fires which earned me first place which felt great!
(Here I am with my usual tennis shoes and messy hair.)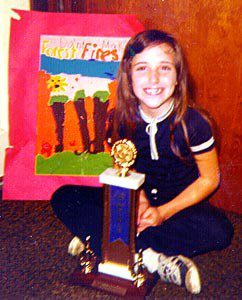 After that sweet win—personal victories have escaped me. I have won on teams and as part of a group effort but those solo prizes have been few and far between.
Never a winner when my Blogger peeps have a giveaway and I have entered almost every sweepstakes from Shape and SELF magazine with no results except SPAM emails from affiliate advertisers.
You know that game where you have to guess the number of jelly beans in a jar in order to win the prize?
What are the odds a person actually picks the actual number of beans and winds up coming in second because it was a two-way tie decided by a coin toss? (Me at the age of ten and I have NEVER played one of those games since then. It still stings to think about it…)
Well my luck change recently when I noticed a tweet from Reebok which had a photo of yoga goddess Tara Stiles signing a yoga mat. The tweet asked "what would you do if you won a yoga mat signed by Tara" and I quickly wrote back that I would finally learn how to perform a crow pose.
Well guess what? My lucky streak is starting to happen in 2016 because I received the following tweet: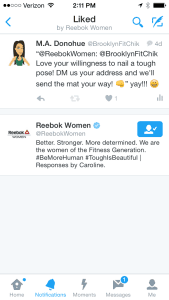 Yippee! The mat arrived in two days and this cat lady is very happy with the design!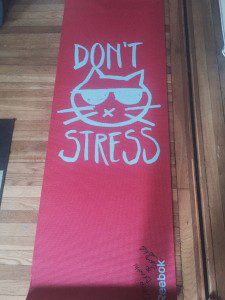 Now I just need to learn how to do the crow pose—LOL! Any advice for a crow pose-fearing yoga newbie– leave them in the comments below and hopefully I will be able to nail it sooner than later! (Will post pictures of my progress!)
Thanks so much Reebok & Tara! You really made me feel special. (My cats are enjoying laying on it, by the way!)
Fit Bottomed Girls Hits:
As some of you know—I am a NYC contributor for the popular fitness Blog Fit Bottomed Girls and this month I have had some articles featured there including:
A 30-minute HIIT workout that will rock you like a hurricane! In this one I combine High Intensity Intervals of cardio busts with weight bearing moves to get an intense workout in a short amount of time. In case you are wondering about my credentials—I am a certified personal trainer from the National Academy of Sports Medicine and have my group fitness certification from AFAA and try every workout myself before I hit the publish button. Let me know what you think of it!
Lower Ab Movies: I also reach out to my favorite health & fitness peeps with their best advice for different kinds of workouts and in this one they offer their favorite lower abs moves to lose the tummy pooch.
Book Vs Movie Podcast News:
Margo Porras of She's Nacho Mama's Blog and I co-host the "Book Vs. Movie" podcast (that you can subscribe to via iTunes at this link) and after being on the over a year our numbers keep going up and up. For example—in December we had the most downloads in our history happen and then in January we went up 50% over that which is totally insane but we are having so much fun with it.
Our newest episode was suggested by a fan—Perks of Being a Wallflower which we both love. I have it here if you want to listen to it but I also want to know what your favorite book to movie adaptions are and what we should cover next. Merci in advance!
Oh well, that's it for me today.  I will be back soon with magazine reviews, playlists, reviews and so much more!!
(If you are reading this on a different site or a different feed than Brooklyn Fit Chick, it has been taken without permission.)
Until next time…
Ox Ox,
BFC
Brooklyn Fit Chick
Follow me on Twitter: "BrooklynFitChik" (note the spelling!)
Instagram: BrooklynFitChick
Pinterest: BrooklynFitChick
You Tube: BrooklynFitChick1