BROOKLYN FIT CHICK'S PLAYLIST
"The Top 7 Workout Songs of 2016"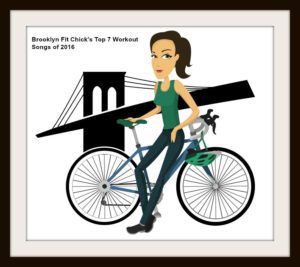 Hey there! Hi there! Ho there!
2016 will soon be leaving us and may I just say on behalf of Prince, Davis Bowie, Alan Rickman and Carrie Fisher fans everywhere—don't let the door hit you on the a** on the way out! (Sheesh—you sucked butt horrible year!)
So, I want to finish the playlist for the year on a happy note and pick my "Top 7 Workout Songs of 2016." These tunes came out in the past year and made an appearance at one time or another on my playlists. Each is special to me for their tunefulness and ability to motivate my students.
I hope you like the selections listed here and maybe one or two may wind up on your iPod soon?
Let me know what you think in the comments below. Also—be sure to leave a few of your favorite workout song suggestions as well!
The Brooklyn Fit Chick "Top 7 Workout Songs of 2016"
This song was sort of a "slow burn" for me. Wasn't too crazy about it at first but then it just got under my skin and now I need to hear it every day. Bruno knows how to write a hook!
Bob Moses has a dreaming kind of style to his voice and this tune has a great steady beat that gains in energy as it grooves along. This is one of those songs my students ask the most about after class.
This Is What You Came For: Calvin Harris/Rihanna
I really love opening the class with this collaboration from Calvin Harris & Rihanna as it does that thing I love most—it builds in energy as it moves along. Try NOT to sing along to it—the beat is irresistible!
Welcome to Your Life: Grouplove
If there is anything that has left me in a positive mood, it's this single by Grouplove that feels both majestic and hopeful for the future. (Warning if you use it for your classes—the chorus is LOUD!)
Wish I Knew You: The Revivalists
This New Orleans band is new to me and this tune is my introduction to their sound. Me likey!
Got Your Number: Serena Ryder
Serena is a Canadian chanteuse who writes fun, catchy pop songs. I like to call this the "perfect second song to a playlist" as it helps to up the energy level.
Hymn for the Weekend: Coldplay & Beyoncé
I love the combination of Chris Martin's piano with Beyoncé's lovely voice which builds in energy and excitement as they song along together. One of my favorites of the last year!
That's it for me this time. See you all in 2017! (Stay safe this holiday weekend!)
Until next time…
Ox Ox,
BFC
Brooklyn Fit Chick
Follow me on Twitter: "BrooklynFitChik" (note the spelling!)
Check out my podcast here! http://bookvsmovie.libsyn.com/podcast
Instagram: BrooklynFitChick (Warning! I post tons of pictures of my cats here.)
Pinterest: BrooklynFitChick