BROOKLYN FIT CHICK'S PLAYLIST
"I Lived" 50-Minute Ride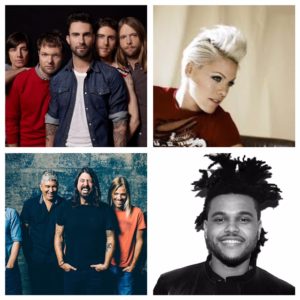 Hey there! Hi there! Ho there!
I am back to trying to crank out a new playlist every other week which is a herculean task considering how many songs are in my repertoire—but I am up for it! My goal in 2017 is to branch out and listen to new artists and new kinds of music so if any of you out there have suggestions—hit me up in the comments.
In the meantime—take a look/listen to today's playlist as I hope it inspires you for your next workout.
I Lived (Arty Remix): OneRepublic
I prefer this "Arty Remix" as it has some fast-paced intervals in there which makes for a great warm-up song.
This is one of my favorite songs from Tegan and Sara because it has the right amount of happy energy and a good beat. The video, however, is just a wee but pretentious IMHO.
Blow Me (One Last Kiss): P!nk
P!nk is one of my favorite artists and this song always makes me want to sing along even though she sings in an impossible key during the chorus!
Long Road to Ruin: Foo Fighters
The Foos are my "go-to" for most rides as you can probably can tell by now. Therefore, I cannot believe this is the first time Long Road to Ruin has been featured on one of my playlists. (Bad Margo!)
Dangerous (featuring Joywave): Big Data
I love the bouncy beat of this song and how when it plays—my students bop their heads to the bass line. (So freaking cute!)
My mother refers to this as the 'banjo song' which also makes her giggle every time she hears it. So now you know—you're welcome!
I Am One: Smashing Pumpkins
My inner 90s rock chick needs to be listened to from time to time and the Smashing Pumpkins reminds of those fun days.
I am beginning to become a big fan of The Weeknd even though the spelling of his stage name is pretty lame. (Do you think he regrets it already?)
Gold, Girls, Guns: Metric
This is one of the best songs I use for sprinting intervals because it has an intense feel to it without being overwhelming. Try it for yourself!
If you love pop & hip hop music—give Canadian k-os a listen some time. You will thank me later!
No—I am not sick of this song yet. Bruno knows how to create a funky beat that makes folks happy.
Moves Like Jagger: Maroon 5
This is the song that made me like Maroon 5. I can't help but start singing along to it.
Sometimes I just need to hear some old-school Fleetwood Mac to mellow me out after a tough workout and this song fits the job perfectly.
That's it for me this time. I will be back soon with another batch of tunes to get you all kinds of motivated!
Until next time…
Ox Ox,
BFC
Brooklyn Fit Chick
Follow me on Twitter: "BrooklynFitChik" (note the spelling!)
Check out my podcasts here! http://bookvsmovie.libsyn.com/podcast and here http://fitbottomedgirls.libsyn.com/rss
Instagram: BrooklynFitChick (Warning! I post tons of pictures of my cats here.)
Pinterest: BrooklynFitChick