BROOKLYN FIT CHICK'S PLAYLIST
"Turn Into" 50-Minute Ride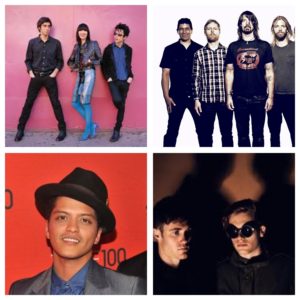 Hey there! Hi there! Ho there!
How is your 2017 going for you so far? I am feeling weird about how the world will turn out this coming year but am trying to remain healthy & strong to take on whatever challenges may come my way. (I am woman—hear me ROAR!)
Today's playlist is a mixture of old and new tunes designed to make your workout fun and motivating. Let me know what you think in the comments below!
And as always, be sure to send me suggestions for your favorite tunes for working out. I am always looking for new ideas.
Turn Into: Yeah Yeah Yeahs
I have no idea what this band has been up to lately but I really love this song and hope to hear more from them soon.
My favorite music has a kind of bounce to it and this number from The Strokes always makes me smile.
Youth Without Youth: Metric
Metric is one of my favorite bands that I need to see in person one of these days. This song in particular is really motivating when I really want people to rev up and get out of their comfort zone.
Locked Out of Heaven: Bruno Mars
I love me some Bruno Mars and this gem of a tune really gets people to bop their heads to the beat and have some fun during the ride.
Get Up (Sex Machine): James Brown
I know he had a reputation for being a rather tough task master but damn the results are totally amazing. Can't decide which makes me happier—the piano solo or the "get on up!" chant.
The Foos always get the room amped up and ready to break some sprinting records. This is one of my favorites by them because it really "rawks"!
Carried Away: Passion Pit
The cheeriness of this song always puts me in good mood and is a nice break from the hard rock—until we get more techno….
Came Back Haunted: Nine Inch Nails
This is a fantastic song for sprinting and has thumping beat along with Trent Reznor's killer vocals. Me likey!
When my inner hippie needs to come out and play—I put on some Phish music and sway like a visitor from the 70s. The lyrics here are so calm and inspiring—add it to your playlist stat!
Getting' Jiggy Wit it: Will Smith
Here we go a little old school with Will Smith and some 90s hip hop. Woot!
The music shifts here to be a little moodier & super dreamy and always makes me work a little harder while adding resistance to the wheel.
Ring of Fire: Social Distortion
This has to be my favorite cover of one of my favorite Johnny Cash songs of all time. A rollicking way to end the workout.
Somebody to Love: George Michael with Queen
RIP George Michael.
That's it for me this time. I will be back soon with another batch of tunes to get you all kinds of motivated!
Until next time…
Ox Ox,
BFC
Brooklyn Fit Chick
Follow me on Twitter: "BrooklynFitChik" (note the spelling!)
Check out my podcasts here! http://bookvsmovie.libsyn.com/podcast and here http://fitbottomedgirls.libsyn.com/rss
Instagram: BrooklynFitChick (Warning! I post tons of pictures of my cats here.)
Pinterest: BrooklynFitChick