Book Vs. Movie: National Lampoon's Vacation
The 1979 Short Story by John Hughes vs the 1983 Chevy Chase Movie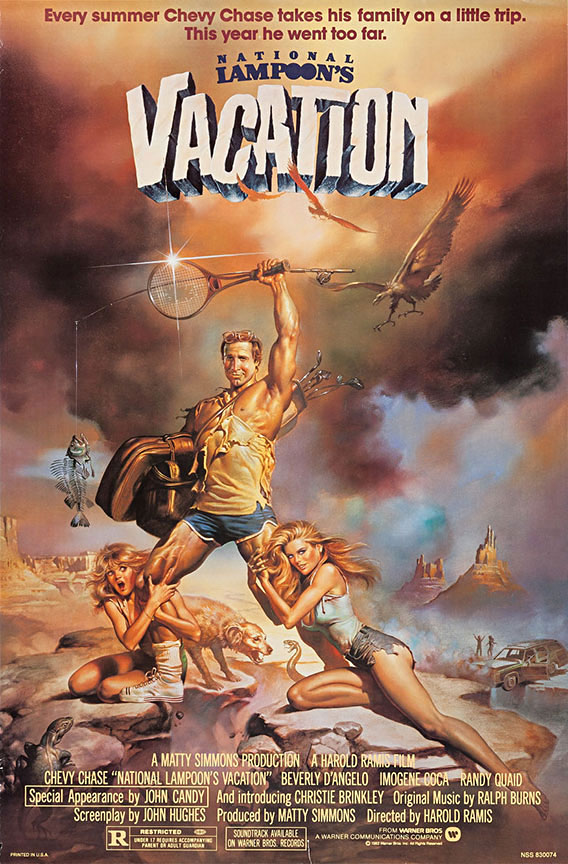 The Margos are celebrating summer with a look at one of the most popular "family" vacation movies ever filmed–National Lampoon's Vacation. Directed by Harold Ramis and starring Chevy Chase and Beverly D'Angelo, the film is remembered as a classic comedy but due to the National Lampoon magazine influence (we get into THAT history here!) It features crude, blue humor that was normalized by the magazine in the 1970s and is based on a John Hughes short story Vacation '58.
John Hughes would go on to ge THE John Hughes of teen comedies (Pretty in Pink, 16 Candles) and adult "dramedies" (Planes, Trains, and Automobiles & She's Having a Baby) but at the time of this short story publication (Summer 1979), he was a young adman/copywriter who wanted to break into films. His story revolves around a family taking a road trip to California from Illinois in a station wagon. It's funny and profane with many of the elements we would see in the adaptation.
Harold Ramis directed the film on a tiny budget and made the father versus the son the protagonist. It is known today for its weird sense of humor, Christie Brinkley in a red Ferrari and one the best theme songs ever written (Holiday Road by Lindsey Buckingham.) Also, racism, incest, animal & elder abuse, masturbation, and Randy Quaid. This one is a real hodge podge of everything 80s in the best and worst possible way.
So, between the original story and the 1983 adaptation–which did we like more?
In this ep the Margos discuss:
The incredible (and very short) life of John Hughes
The impact of National Lampoon on comedy in the 70s and 80s
The cast: Chevy Chase (Clark Griswold,) Beverly D'Angelo (Ellen Griswold,) Anthony Michael Hall (Rusty,) Dana Barron (Audrey,) Imogene Coca (Aunt Edna,) Randy Quaid (Eddie Johnson,) John Candy (Russ Lasky,) Christie Brinkley (Girl in the Bikini,) Eugene Levy (Ed, the car salesman,) and Jane Krakowski (Cousin Vicki.)
Clips used:
Book Vs. Movie is part of the Frolic Podcast Network. Find more podcasts you will love Frolic.Media/podcasts
.
Join our Patreon page to help support the show! https://www.patreon.com/bookversusmovie
Book Vs. Movie podcast https://www.facebook.com/bookversusmovie/
Twitter @bookversusmovie www.bookversusmovie.com
Email us at [email protected]
Margo D. @BrooklynFitChik www.brooklynfitchick.com [email protected]
Margo P. @ShesNachoMama https://coloniabook.weebly.com/
Our logo was designed by Madeleine Gainey/Studio 39 Marketing Follow on Instagram @Studio39Marketing & @musicalmadeleine